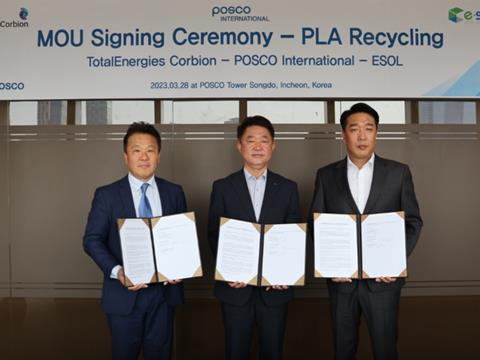 A partnership between TotalEnergies Corbion, POSCO International, and ESOL is aiming to develop South Korea's recycling infrastructure and technology for PLA in pursuit of the Korean Government's framework for Carbon Neutrality.
Hoping to expand its portfolio by entering the biobased plastic recycling sector, POSCO International will oversee and finance the project. The trading company has been working with bioplastics since 2019 and aspires to fully develop post-consumer recycling technology for PLA by 2026.
While TotalEnergies Corbion is set to contribute its own knowledge and experience of advanced PLA recycling, ESOL will source the PLA waste from post-consumer recycling and work towards advancing the necessary technology to collect, sort, clean, purify, and reuse the PLA. The latter is already producing PLA-based products in Korea and aims to establish recycling infrastructure throughout its supply chain for a more sustainable use of plastics in the country's growing PLA market.
With the global bioplastic market said to be expanding at an annual growth rate of over 20%, the companies aspire to promote the use of PLA in various foodservice and packaging products, such as bottles and containers, through the mechanical and advanced recycling of TotalEnergies Corbion's Luminy PLA. Recycling a material that is already biobased is expected to facilitate a low carbon footprint and increased circularity.
ESOL is also collaborating with POSCO International through the Green Butterfly campaign, which seeks to promote the retrieval of used PLA.
Last year, TotalEnergies Corbion announced that it aimed to contribute towards the widespread collection, sorting, and cleaning of PLA waste and stimulate a market for PLA recycling streams in the packaging industry by purchasing reprocessed PLA waste to recycle into its Luminy rPLA brand.
Belgian PLA producer Futerro also entered negotiations to open a fully integrated biorefinery with an expected production capacity of 75,000 tons every year.