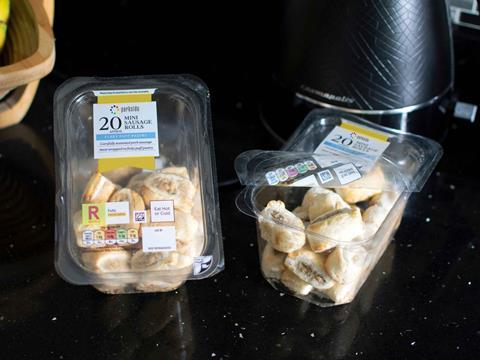 Parkside has revealed its ParkScribe laser scoring technology, set to create easy peel-and-reseal PET lids from the company's lidding films.
The technology is set to be applied to Parkside's range of certified compostable, renewable, paper-based, and recyclable monomer solutions. The scoring is expected to integrate the lid into the pack itself and ensure that it remains attached throughout the recycling process.
"ParkScribe uses a laser to score substrates quickly and with micron-level precision," explained Joshua Swann, head of Technical at Parkside. "It means we can cut through only a few layers of the lidding material in specific areas to create a lid that peels away, then reseals without the need for additional glue strips, zips, or stickers which can affect recyclability.
"When weld sealed to a tray it is fully recyclable under current OPRL guidelines provided the polymer is the same as the one used in the tray, while still being easy to open and reseal to meet consumer demands for convenience.
"This is just one demonstration of the innovation present in our lidding film range. Our latest range of recyclable plastic, 30%-plus recycled content, paper-based, and compostable films enables customers to be flexible when developing packaging that perfectly suits the needs of their application."
Parkside's home- and industrially-compostable duplex laminate films are said to be suitable for food contact and provide a fully compostable solution when applied to pulp trays. Other options in the range reportedly offer high oxygen and moisture barrier properties to package chilled meats, soft fruits, dairy products, and more in a bid to cut down on food waste.
"Our Recoflex range includes resealable films in regular and high barrier formats, as well as a kraft paper format for plastic-free applications," Swann continued. "All of these formats can be easily run on existing packaging and print lines, and all offer full HD printing for high-impact graphics.
"The versatility and high standards of quality, consistency, and performance across our whole lidding film range marks it out as a clear industry leader for any food application."
Other developments unveiled by Parkside this year include a lightweight, mono-polymer laminated film designed to replace non-recyclable aluminium foil and PET structures; and a special edition, recyclable pack for sausage rolls – developed in collaboration with Sainsbury's and Compleat Food Group – to celebrate the coronation of King Charles III.
Back in March, the dual-lane model of Wild Goose Filling's Evolution Series beverage canning system was released. It claims to automatically seal its cans through paired lid placement and patented Wild Goose seaming stations.
Shemesh Automation's BuckIt TKS25 – exhibiting automated feeding for bucket lids – and bucket lid fastener machines were on display at this year's interpack.
If you liked this article, you might also enjoy:
McDonald's Director of Sustainability in Europe on the company's approach to packaging sustainability
McKinsey on whether or not on-pack sustainability claims affect consumer spending
Perspectives from industry-leading experts on the EU's Packaging and Packaging Waste Directive revisions
A deep dive into the most important packaging sustainability trends and solutions