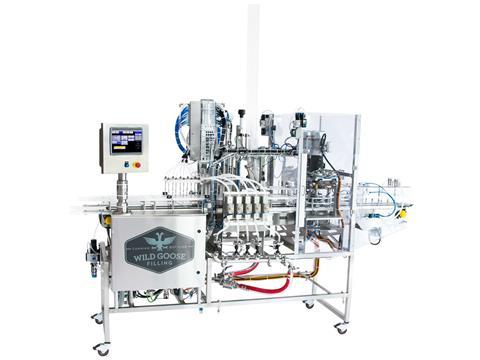 Wild Goose Filling has introduced a CE-certified dual-lane model to its Evolution Series of beverage canning systems, said to achieve speeds of up to 6000 cans every hour.
The dual-lane system provides customers with side-by-side patented inline filling stations, which are intended to minimise the time beverage products spend exposed to the atmosphere. Furthermore, CO2 purging stations and Wild Goose DO Buster CO2 tunnels are expected to preserve beverage quality by preventing dissolved oxygen intake.
With sealing occurring automatically through paired lid placement and patented Wild Goose seaming stations, the dual-lane option apparently expands from eight to ten fill heads to increase customers' throughput and boost production efficiency in a cost-effective way.
The dual-line Evolution Series models can run both lanes simultaneously or a single lane for smaller product runs, with its upgradeable design and high-speed capabilities thought to make it an ideal system for canning beer, cider, RTDs, kombucha, wine, cannabis drinks, and more.
Now said to meet European regulatory and safety standards like Wild Goose's single-lane CE Evolution Series models, the dual-lane system apparently includes similar practical safety guarding in its design, which includes visibility into every area of machine operation. Wild Goose also offers to its customers a technical staff of direct employees based in Europe, as well as local inventory for spare parts – both of which are expected to make it easy and affordable for companies to purchase and commission the machinery.
"We designed this canning line with European beverage makers in mind," said Dan Welch, general manager at Wild Goose. "Our customers in Europe have requested a high-speed canning line at a reasonable price. Offering CE models of our dual-lane Evolution Series canning systems gives producers around the world a reliable, high-quality filling solution for beer, wine, cider, or just about anything else at a lower investment than large-scale rotary filling machines."
PakTech recently unveiled its CCA MicroPak can carrier applicator, which can reportedly handle up to 60 can handles per minute and serves as an extension of its line of handle applicator machines.
Mespack and Famartec have also joined forces to develop an integrated vertical form-fill-seal and cartoning solution for primary and secondary packaging in the pharmaceutical sector.