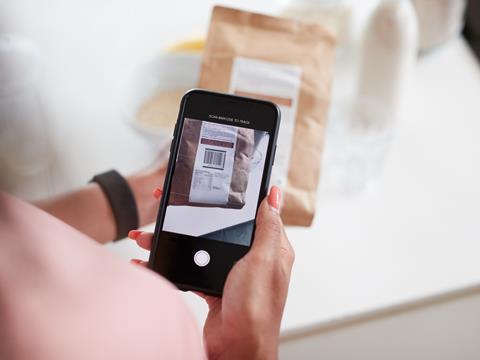 New research from Digimarc Corporation has found that being able to verify the authenticity of a product is important to over 70% of consumers, with almost two-thirds saying that transparency into how and where a product is made is a key part of their purchasing decision. The research points to opportunities for brands to use traceability solutions like QR codes to build consumer confidence.
The new research was conducted by the independent research firm Censuswide and included 2,000 UK consumers. The findings suggest that consumers are increasingly interested in the origins of products and looking to companies to provide transparency on goods from a variety of industries.
According to the survey, 53% of consumers are concerned that new products they buy are counterfeit. Some of the key industries where consumers are worried about the authenticity of products include pharmaceuticals, over-the-counter medication, apparel and fashion, confectionery, alcohol and tobacco, and baby food and formula.
Digimarc says that the research demonstrates interesting differences between demographics when it comes to worries over authenticity. 87% of respondents in the Boomer category, ranging from their early fifties through to their mid-seventies in terms of age, say that they worry the most about the authenticity of pharmaceuticals. Meanwhile, Millennials and Gen Z expressed the most concern over the authenticity of luxury goods. The common thread for Gen Z and Boomers, on the other hand, is whether the goods they buy for their families are genuine, with 51% and 75% of consumers in these respective categories reporting that this is a worry for them.
In addition, 68% of Millennials apparently worry about the authenticity of baby food and formula. According to Digimarc, the research expands on how concerns over authenticity vary with life stage. As Millennials range from being in their late twenties to early forties, this age group's concern over the authenticity of baby products could reflect the fact that they are most likely to have young children and thus such goods make up a larger proportion of their purchasing habits.
The findings also show that 40% of consumers think that online shopping has contributed to the sale of counterfeit goods, while a third believe that social media has normalised cheaper products that may or may not be counterfeit.
This suggests that consumers are worried about the provenance of products ordered online, which could be linked to the significant expansion of e-commerce over the last few years and growing awareness regarding the complexity of global supply chains. According to Europol and the European Union Intellectual Property Office (EUIPO), 5.8% of EU imports are counterfeit or pirated with clothing, food and beverages (including alcohol), and pharmaceuticals all being identified as at-risk industries – mirroring consumer concerns in the new research from Digimarc. Europol and EUIPO say that the COVID-19 pandemic, one of the driving forces behind the expansion of e-commerce, has provided further opportunities for counterfeiters, meaning these consumer concerns aren't unfounded.
Consumers appear to be increasingly interested in the international journey of goods, with reporting on COVID-19 and the global supply chain crisis perhaps contributing to this awareness. Ken Sickles, EVP, chief product officer at Digimarc, explains: "With 45% of consumers concerned about which country a product has come from and 38% advising that they consider the number of miles it has travelled, brands cannot escape the high demand to better demonstrate and communicate their integrity and values to consumers."
Overall, Digimarc claims that the research shows consumers are looking to brands to prove authenticity and transparency. Sickles adds: "Being able to verify that a product is authentic is now important to 73% of consumers and over half (59%) said transparency into how and where a product was made was key to their purchasing decisions."
The research notes that consumers are seeking reassurance that the product they are purchasing isn't counterfeit and is really from their brand of choice. 38.5% of consumers reportedly want certainty that they are purchasing from a certified retailer or online marketplace.
Additionally, 38% of the surveyed consumers want to be able to easily check a manufacturer or producer's claims, according to Digimarc. The research highlights that 31% of consumers are keen to see a certificate to prove chain of custody, as well as read reviews from other consumers who can vouch for the product.
With regards to specific traceability solutions, 64% of consumers apparently say they would be happy to scan a QR code if it will provide quick and easily accessible information tracking how the package or product moves along the supply chain. The age of consumers also proves significant here, with the research finding that 52% of Millennials claim they have used QR codes more over the last two years.
Sickles comments: "The challenge brands face from counterfeiters is multifaceted with sales online, the altering of packaging and product labels, as well as infringement of intellectual property.
"The need to address counterfeiting is no longer just about protecting brand reputation, it is also about protecting consumers' health and safety.
"As this research highlights, consumers also have a vested interest in ensuring the products they purchase are authentic, with nearly half of respondents saying it would help them feel reassured they are purchasing an authentic product if they had a way to check the manufacturer's claims.
"It's hugely positive therefore to see that nearly two thirds (64%) of respondents would happily scan a QR code if it gave them information quickly and easily. Adopting this type of technology will enable brands to unite with their consumers, keeping their products real and protecting their reputation."
More and more companies are integrating scanning technologies like QR codes into their packaging. For example, Tetra Pak is using QR codes on packaging like milk cartons to provide detailed product information alongside a bespoke digital marketing solution where consumers can enter competitions. Similarly, Geek Bar, a Chinese company supplying vape products, and supplier of Parmigiano Reggiano cheese wheels, Consorzio del Parmigiano Reggiano (CFPR), are using QR codes for authentication.
Andrew Manly, communications director at AIPIA, says that QR codes "are now able to do things on a reliable level" and "contain excellent security and access features". However, Manly argues that brands need to be implementing stronger calls to action to ensure that consumers are engaging with these packaging features in such a way that boosts confidence in the authenticity and traceability of products.