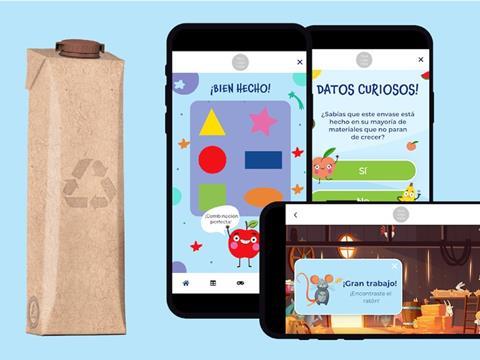 Tetra Pak has launched the Iberia connected experience, created in partnership with Appetite Creative, to engage consumers via QR code-enabled smart packaging.
Consumers will be able to access a 'white labelled', web-based app using a QR code on Tetra Pak packaging. Research conducted by Tetra Pak and Nielsen suggests that 55% of the population have already scanned QR codes on food products, while 76% of consumers said they would use QR codes to find out more about products or enter competitions.
For brands, this can be adapted to specific needs and products, reportedly offering a bespoke digital marketing solution.
According to Tetra Pak, the app tracks real-time interaction, such as the product flavour scanned, average engagement time, location, scan rate, the number of visitors and return visitors, and social media shares. It apparently also offers GDPR compliant personal data, intended to help brands understand its consumers and optimise its marketing.
For consumers, the app includes interactive options for either young people or adults.
Both options offer templates for quizzes, AR experiences that showcase the brand's packaging, and interactive games with leader boards and competitive prizes, according to the company. Some of the games allegedly focus on environmental sustainability, while the quizzes give tips, advice, and information on the company's sustainability goals.
The company adds that the app encourages engagement through social media by enabling consumers to 'share a selfie' with branded filters via social media. Consumers can also encourage friends to join in with the games on the app, with high scores being rewarded with prizes including an iPhone 12, iPads, electric bicycles, or a Nintendo Switch, among others.
José Luis Velilla, marketing director at Tetra Pak Iberia, comments: "Open to everyone, we want to engage with as many brands as possible to help them create a unique connection with consumers and beneficiaries of smart data and real-time marketing optimisation.
"It is one more step towards a complete connected digital experience with unique codes and connected packaging."
Jenny Stanley, managing director at Appetite Creative, adds: "Connected packaging offers brands a huge opportunity to better connect with customers in a compelling and interactive way, via their very own branded media channel.
"Tetra Pak has made this easier than ever before through the new Iberia app, which gives brands the foundations for a brilliant connected experience, all they need to bring is their branding."
Last month, Tetra Pak worked with the Swiss brand Emmi good day to offer an AR experience using smart packaging and a mobile app, which it says is aimed at encouraging consumers to lead healthy lifestyles. The company has previously introduced the Connected Packaging Platform for milk and juice cartons, which apparently offers enhanced traceability for producers and retailers, and additional information for consumers.
Currently, the Tetra Pak Iberia app is only available to customers in southern Europe, with more countries expected to be added soon.