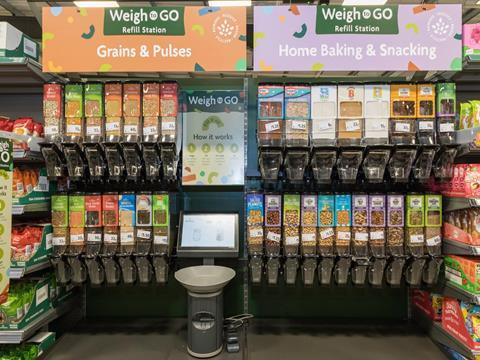 A pilot store by the UK-based retailer Morrisons has been launched with refill options for over 300 items, including pasta, frozen fruit and vegetables, dog food, and personal care products. This store, which the retailer claims will use 43% less carbon overall, stocks a greater amount of loose products, uses refill hoppers, and offers a recycling station for difficult-to-recycle plastics.
One way this Morrisons store in Little Clacton, Essex, says it will cut down on plastic packaging is through refill dispensers or 'hoppers'. Seventy products will be stocked in refill hoppers, allowing consumers to bring their own reusable containers. These hoppers will stock products like pasta, coffee, and herbs, while there will also be a refill option for household cleaning and health and beauty products.
There will also be plastic-free shopping for over 110 products at the meat, fish, and deli counters, where customers can use refillable containers, according to Morrisons. The retailer adds that there will be frozen products, including fruit, bread, and pastry pick and mix, and 14 pet foods available 'loose'.
Morrisons says that 76 types of fruit and vegetables will also be available without packaging as part of the pilot store, as well as 57 allegedly plastic-free breads and buns. In total, the retailer claims it will stock over 350 'loose' products that are free from plastic packaging at the pilot store.
Another way the store aims to reduce its environmental impact is through a recycling station. This station promotes the recycling of soft plastics, glass, and cartons as well as batteries, ink cartridges, and textiles. This reportedly allows packaging that is normally difficult to recycle to be processed into useful items.
This store has also made the change from plastic milk bottles to Tetra Pak cartons, which are reportedly carbon neutral, as a part of Morrisons' national switch away from HDPE bottles. This move has been criticised by some people in the packaging industry, with claims that the Tetra Pak cartons are significantly less recyclable than HDPE bottles.
Morrisons claims that these changes effectively half the amount of plastic packaging customers consume at its pilot store. The retailer has committed to a range of environmental targets for carbon, plastic, and waste reduction. It plans to become net zero for operational emissions by 2035, in line with the international Paris Agreement, has committed to a 50% reduction across its own-brand primary plastic packaging by 2025, and aims to recycle all of the waste it creates by 2025.
Some of the other ways this store is aiming to reduce carbon emissions is through environmentally cautious construction and the use of solar panels, which the retailer says will make up 20% of the store's energy supply. This store will apparently also source local produce, rather than importing goods across long distances, and create a wildlife area outside the store to increase biodiversity.
David Potts, CEO of Morrisons, comments: "This store is a significant step forward on our sustainability journey. It brings together all of the environmental and social initiatives we have created that can be rolled out into other stores across the country. It will start to inform the design of many more similar stores to come."