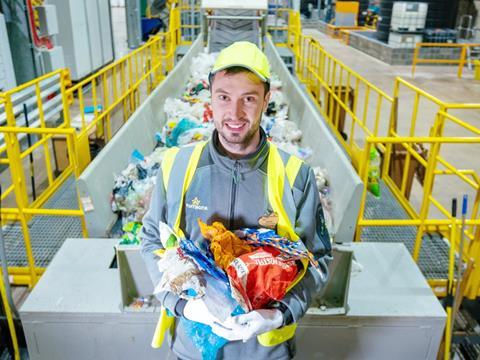 A new recycling site for hard-to-recycle soft plastics – co-owned by supermarket chain Morrisons and operated by Yes Recycling – has opened in Scotland with the aim of preventing end-of-life plastics from being exported overseas and repurposing an annual 15,000 tonnes of post-consumer packaging at full capacity.
With such organisations as Nestlé UK & Ireland and Zero Waste Scotland also contributing to its development, the site utilises patented technology to convert the packaging – collected from kerbsides by Cicero Scotland and from Morrisons stores – into plastic flakes, pellets, and Ecosheet, an alternative to plywood.
Packaging such as sweet wrappers, crisp packets, salad bags, and non-PET food film will be washed and sorted upon entry, with the materials either broken down into flakes and pellets or compressed into Ecosheets. The latter can apparently be recycled again at end of life, while the former will directly contribute to the production of new plastic.
Technological limitations have previously been a challenge in recycling 'low grade' soft plastics into new products; as such, these types of packaging have typically been incinerated, ended up in landfill, or have otherwise been exported to countries without the necessary infrastructure to accommodate it.
Fife's local council is reportedly one of very few to collect and segregate hard-to-recycle plastics from its customer collections and send them to a local recycling facility. While current projections suggest that a one million-tonne recycling capacity needs to be reached to meet the government's mandate that, by 2027, kerbside recycling collection must be in effect for all household plastic waste, the new facility anticipates that it will contribute to the recycling industry in the UK with the creation of around sixty new jobs.
"The UK is in desperate need of more plastic recycling capacity and, in particular, for the so-called 'hard-to-recycle' plastic waste such as flexible food packaging," explained Omer Kutluoglu, co-owner of Yes Recycling. "Our new 'next generation' recycling plant, which we've developed over the last seven years, is designed to tackle exactly these materials.
"It is a blueprint for the future and will help to kick-start the UK's plastics recycling industry. It will mean we can keep plastic in our own country's 'circular economy' and out of our seas and oceans."
"We've done a significant amount of work to reduce our plastic use and now we want to help build a UK infrastructure to recycle the plastic that we may still need to use," continued Jamie Winter, procurement director at Morrisons. "By recycling these problematic plastics here in the UK, we can give them a new life."
David Gunn, recycling improvement fund manager at Zero Waste Scotland, added: "It's great to see Fife Council using this support to enable householders to recycle soft plastic by upgrading CIRECO's material recycling facility. This will significantly enhance the local authority's ability to deal with 'hard-to-recycle' plastics that would otherwise be exported overseas."
"It is really exciting to see Yes Recycling open its doors in Fife," concluded Sokhna Gueye, head of Packaging at Nestlé UK & Ireland. "We made a pre-investment of £1.65 million into the facility as at Nestlé we are working hard towards our vision that none of our packaging, including plastics, ends up in landfill or as litter. So, it is fantastic to see our packaging such as KitKat wrappers or Purina pouches given a second life, thus contributing to building a circular economy for plastics."
The new facility is one of several up-and-coming recycling plants to have been announced in 2023. The ALPLA Group and its joint venture partners have opened a PET recycling plant in Romania, while PureCycle Technologies is set to build its first European PP recycling facility in Belgium.
Morrisons has engaged in other efforts to reduce its overall reliance on plastic packaging, from piloting refill options for over 300 of its products – with the pilot store also containing a recycling station for hard-to-recycle plastics – to replacing the HDPE bottles of its own-brand milk products with Tetra Pak cartons. Jonathan Wragg, owner of CAPP Environmental, voiced his reservations about the latter in an article for Packaging Europe.