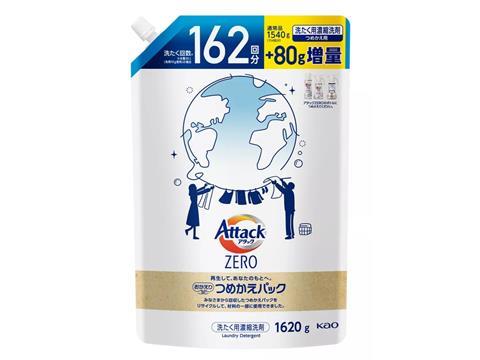 Kao Corporation has developed a film-to-film recycling technology for used refill packs that has been implemented into a layer of its Attack ZERO liquid laundry detergent packaging.
Measuring approximately 100–250μm, Kao explains that the film packaging used for refill packs is a composite of several thin material layers – around 80% polyethylene and other materials such as PET and nylon. It is designed to offer barrier protection against temperature, humidity, and UV rays.
In response to concerns about its recyclability, Kao reportedly removes packs containing metallic films, often aluminium foil, from the stream at the sorting stage to produce a homogenous film. To prevent the formation of holes, a compatibilising agent is also used in the mixing and dispersal of polyethylene, PET, nylon, and other materials, while inks and adhesives are pulverised.
The technology prevents the mixture of materials from clumping using a laser filter under special conditions during kneading to remove foreign matter. To further refine the film's surface, a different compatabilising agent enables the mixture of PET and nylon with polyethylene and prevents further clumping – a process developed in collaboration with Tosoh Corporation.
Accounting for the different melting temperatures between the various materials, Kao Corporation has also worked with Fuji Seal to optimise the temperature in the film-making process and retain the properties of each material. The company states that it will partner with Mitsui Chemicals and Prime Polymer Co., Ltd. in its future exploration of mass-production methods for recycled resin pellets.
Select Ito-Yokado, Welcia Pharmacy, and Aeon stores are selling limited quantities of the refill packs for Kao's Attack ZERO that utilise the recycled material in a middle layer – a design aiming to protect the quality of its contents while offering rigidity to the pack.
For now, 1,620g of the Attack ZERO packs are set to contain 10% recycled material, with 1% being sourced from used refill packs and the rest from refill packs manufactured but unused. It is hoped that more of these packs will reach the market by 2025, and Kao intends to develop films made from single materials to improve recyclability.
It also shares its plans to expand its technology amongst the consumer products industry to uplift recycling efforts, as well as to devise a system to collect more refill packs and reduce production costs.
Molton Brown, a Kao Corporation company, recently revealed its 'made-to-last' refillable Bath & Shower Gel bottle collection. The range expects to help customers lower their plastic footprints by 63%.
LyondellBasell and KIRKBI A/S have also signed an agreement to invest in APK's solvent-based Newcycling recycling technology for LDPE in a bid to increase the recycling rate for multi-layer flexible packaging.
If you liked this article, you might also enjoy:
McDonald's Director of Sustainability in Europe on the company's approach to packaging sustainability
McKinsey on whether or not on-pack sustainability claims affect consumer spending
Perspectives from industry-leading experts on the EU's Packaging and Packaging Waste Directive revisions
A deep dive into the most important packaging sustainability trends and solutions