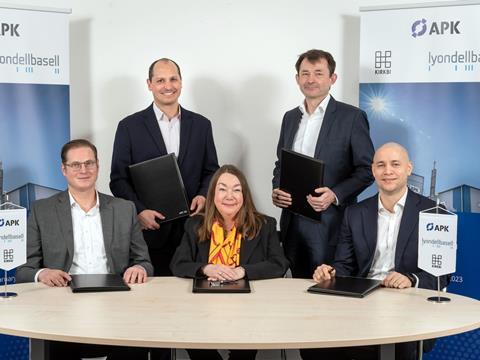 LyondellBasell and KIRKBI A/S have signed an agreement to invest in APK's solvent-based Newcycling recycling technology for LDPE.
As multi-layer flexible packaging materials reportedly make up the majority of today's mixed plastic waste from the consumer sector, APK is aiming to increase its recyclability with its process of separating the different polymers and converting them into what claims to be high-quality recyclate.
Thanks to their investments, LyondellBasell and KIRKBI will become minority shareholders in APK. They will join other co-investors in donating a total of approximately €130 million, which is expected to contribute towards additional Newcycling plants and increase APK's production capacity.
"We need to advance the recycling of all types of plastic waste material generated today to support the goal of a circular economy and meet the increasing demand for high quality recycled products," says Yvonne van der Laan, LyondellBasell Executive Vice President, Circular and Low Carbon Solutions. "Advancing this technology, through our investment in APK, will enable more plastic packaging waste to be reintroduced back into the value chain and will address the demand from consumers and brand owners for more sustainable packaging.
"Products made using this unique Newcycling solvent-based technology will be a great complementary addition to our existing Circulen product portfolio, which currently offers mechanical and advanced recycling solutions to our customers."
"We are happy to announce our investment in APK," continues Damir Hamzic, head of the Circular Plastics Investment at KIRKBI. "KIRKBI believes APK offers a promising scalable technology in LDPE recycling that can help increase the circularity of plastics and minimize plastic waste, to contribute to a more sustainable environment in the future. We look forward to providing strategic, financial and commercial support while APK establishes technology that will complement mechanical and chemical recycling."
"Our Newcycling technology makes it possible to close the loop even with complex waste streams and to produce high-quality LDPE recyclates from mixed plastic waste – highly efficient and offering both economic and ecological advantages," says says Susanne Küppers, Member of the Executive Board of APK AG and Managing Director of APK NCC. "We have been proving for years that this is also possible on an industrial scale at our plant in Merseburg.
"We are pleased to now ignite the next stage and are proud to have LyondellBasell and KIRKBI as two strong supporters at our side, who bring a lot of additional expertise, for example in the areas of polymer design and application know how."
Borealis recently acquired a majority stake in chemical recycling solutions provider Renasci with the aim of increasing its access to chemically recycled feedstock.
Before that, UK Research and Innovation (UKRI) funded Nextek Ltd's COtooCLEAN project, which aims to produce food-grade recyclate from polyolefin film waste using supercritical CO2 and green co-solvents for waterless decontamination.