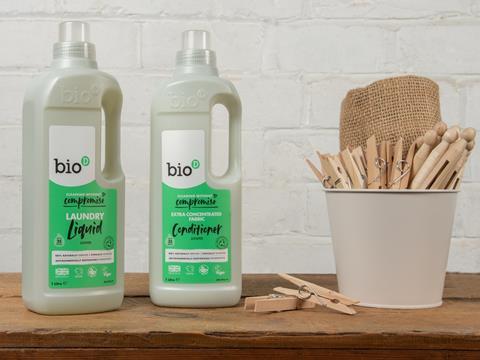 Berry Global has produced a range of reusable bottles that claim to be made entirely from post-consumer recycled HDPE; these are set to package a range of home care products from ethical cleaning company Bio-D.
The bottles are blow moulded with the Bio-D logo embossed into the design to maintain the on-pack branding throughout its life cycle. The 1-litre bottles used for the Laundry Liquid and Fabric Conditioner products also feature an integrated handle to facilitate safe handling and controlled pouring.
These products – alongside Bio-D's Dishwasher Rinse Aid, Washing Up Liquid, and Home & Garden Cleaner – also come in 750ml bottles, which do not have handles.
All the bottles are designed to be durable and maintain a long life cycle, although they can reportedly be recycled at end-of-life. According to Bio-D's calculations, for several of its liquid products, utilising 100% post-consumer recycled bottles saves an annual 13 million tonnes of CO2 emissions compared to virgin plastic.
To design the bottles, Berry BMS drew upon the processing experience of Berry Circular Polymers, Berry's specialist recycling business. The closure for the bottles, which is set to provide Bio-D with a complete single-source bottle and closure solution, is produced by Berry Norwich.
It is claimed that the bottles can be refilled at over 300 refill stores across the UK. Their sustainability-minded design coincides with the environmentally conscious contents of Bio-D's products, which are said to be 100% naturally derived alternatives to toxic chemicals that protect people and the planet while enabling a safe and efficient clean.
"Our customers are naturally very sustainability conscious, so it is vital that our packaging represents the same ethos," said Bio-D sustainability manager Heather Nixon. "Reusable bottles made completely from PCR offer a more sustainable solution than alternatives such as pouches.
"Berry has worked hard to ensure that the bottle is tough and long-lasting while also offering convenience and ease of use for the consumer to deliver a solution that is fit for purpose while fully complementing our brand values.
"As a B Corp certified business, which confirms that we meet the highest standards of social and environmental impact, it is vital that our packaging contributes towards making our products environmentally responsible.
"We have worked with Berry over a number of years and the company has always delivered excellent quality and service. Consumers love these bottles because they know each one has been manufactured from waste plastic and can be used time and time again."
Sally Halliwell, sales development manager, Berry Global Blow Moulding Specialities, continued: "While we have been using recycled material in our containers for many years, the requirements for the Bio-D bottle set us additional challenges that required new material technology and processing requirements and an extensive new test regime.
"We are delighted to have partnered with Bio-D in a project that has enabled us to further refine and perfect our processes and which will inform the ongoing development of other products within the Berry BMS portfolio.
"This project also demonstrates why collaboration is so critical to supporting a circular economy. Our team is passionate about pushing the boundaries of what can be achieved with recycled plastics. Working closely with Bio-D, we have been able to deliver 'More Together' and show how recycled plastics can play a vital role in the development of packaging solutions that are both practical and sustainable."
A new design was previously rolled out for Henkel's Pril Limited Edition dishwashing liquid brand. Apparently made from 100% recycled plastic, half of which was sourced from Germany's 'yellow bag' collection system, the update was intended to tie into the coming of spring.
Meanwhile, the new box for Aldi Nord and Süd's TANDIL 3-in-1 laundry detergent is said to be made 'almost entirely' from recycled plastic packaging waste from the yellow bag or bin, which is expected to save around 60 tons of new plastic.
If you liked this article, you might also enjoy:
The Lidl approach to packaging sustainability
How did Brazil achieve its 100% aluminium can recycling rate – and can it be replicated in the EU?
Experts have their say on the EU's Packaging and Packaging Waste Directive revisions
A deep dive into the most important packaging sustainability trends and solution