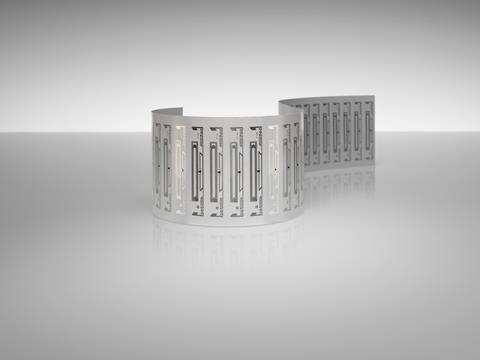 Avery Dennison Corporation has added to its portfolio of dual frequency RFID inlays with the new AD Slim DF EM4425 tag designed for logistical, medical, and industrial applications.
Avery Dennison's dual frequency (DF) range of RFID inlays provides combined NFC (high frequency) and RAIN RFID (ultra-high frequency) functionality, reportedly offering cost-effective item-level tagging in a slimmed-down form factor compared with using two separate, single-frequency inlays.
According to Avery Dennison, the AD Slim DF EM4425 tag has a compact form factor (74.2 mm x 10.7 mm / 2.921 in x 0.421 in), which can be converted into end-application usage, and is available in wet delivery format.
The company adds that the new inlay comes with EM Microelectronic's echo-V IC, which is equipped with 2048 bits of fully shared user memory, accessible via both UHF RFID and HF frequencies. Dual frequency also provides shared memory functionality, which allows HF and UHF protocols to update product information in real-time, the company explains.
According to Avery Dennison, this offers a powerful all-in-one solution for inventory management and product authentication, enabling a consistent customer experience regardless of channel.
This apparently also enables the use of inexpensive, generally available readers (such as NFC-enabled smartphones) as supplements to dedicated UHF RFID or HF reader infrastructures. The company says that end-users can easily and securely authenticate products post-purchase to support returns and re-commerce by tapping NFC-enabled smartphones on the product with the AD Slim DF inlay.
In addition, Avery Dennison claims that the NFC technology, which is powered by the company's atma.io connected product cloud, can be utilised for further product information, inspection, validation, or providing end user-facing information such as user manuals, assembly instructions, CO2 footprint details, and Return Merchandise Authorization (RMA) instructions. The combination of the AD Slim DF inlay with atma.io can reportedly help customers to combat product counterfeits and protect brand equity by enabling different stakeholders in the supply chain to authenticate products along the journey.
Max Winograd, vice president of connected products at Avery Dennison Smartrac, comments: "AD Slim meets the needs for a wide range of medical and industrial item-level use cases.
"Our latest dual frequency inlays are highly cost-efficient, unlocking RFID value for inventory management applications, while enabling brands to combat counterfeits, and deliver specific consumer experiences. Powered by atma.io, companies can benefit from complete visibility of their items from source to consumer and beyond."
Pierre Muller, RFID BU leader at EM Microelectronic, adds: "The AD Slim DF is an ideal option for deploying the unique benefits of our em|echo-V combined RAIN RFID – NFC chips, enabling a complete integration of the end-user experience with the supply chain.
"We are excited about the cooperation with Avery Dennison, building on our decades-long partnership to drive market innovation."
Earlier this year, Avery Dennison expanded its dual frequency inlay range with two new inlays for item-level tagging in retail and pharmaceutical applications.