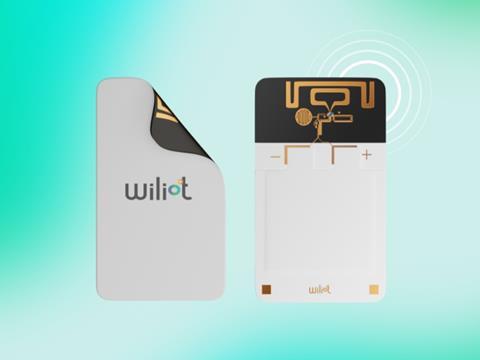 Avery Dennison (AD), the major provider of RFID and digital ID solutions, and Wiliot, the Internet of Things (IoT) specialist, have announced a strategic partnership dedicated to scaling the IoT to the next level, creating a new era of IoT. Both are AIPIA members.
AD will leverage its R&D capabilities and scale to design and manufacture second-generation Wiliot tags, which are stamp-sized computers powered by Bluetooth that attach to any product or packaging to embed it with intelligence and connectivity to create more agile, profitable, and sustainable supply chains.
In addition, AD will integrate Wiliot sensing services (SaaS) with its atma.io connected product cloud, enabling tag sensing information to be added to the end-to-end item-level data of a connected product. Both companies share a vision for the future of the IoT where almost everything is connected to the internet; not just phones, computers, and homes, but also food, medicine, clothing, and nearly everything else.
The partnership will help scale the manufacturing capacity of Wiliot tags significantly. It will also harness AD's market development, innovation and ROI expertise to drive value and enable the company to deliver on projects to some of the world's largest retail, food & beverage, and pharmaceutical brands.
"Wiliot's passive Bluetooth technology offers the ability to work with existing infrastructure and provides another accelerator to the growth of IoT. Combined with sensing capabilities and security features as standard, this expands our portfolio and opens up many new use cases for our customers and partners," stated Francisco Melo, vice president and general manager at Avery Dennison Smartrac.
"Avery Dennison is the only partner in the world with the manufacturing expertise and efficiency to produce our tags in the quantities that are needed to significantly increase the scale of the Internet of Things; their ability to scale as we scale is unquestionable," stated Tal Tamir, Wiliot's CEO. "We're positioned to drive mass adoption of our technology and to scale our vision for the next generation of the IoT."
In another move, Wiliot has announced the expansion of its product portfolio with the introduction of a Battery-Assisted IoT Pixel, developed in partnership with smart tag manufacturer Identiv, also an AIPIA member. The new Pixel joins the company's Battery-Free version to address specific IoT applications that are best served by battery power.
This introduction marks a rapid innovation cycle for Wiliot, following the company's March 2022 launch of its Version 2 Battery-Free IoT Pixel, it says. The Battery-Assisted IoT Pixel uses the same chip as the Battery-Free version, but it augments it with a tiny printed battery. The tags are smaller than a business card and broadcast the same standard Bluetooth beacon.
The new tag reduces the cost of bringing Bluetooth standards-based continuous connectivity and intelligence to things by 10X, whereas the battery-free product cuts the cost of Bluetooth standard integration by 100, claims Wiliot.