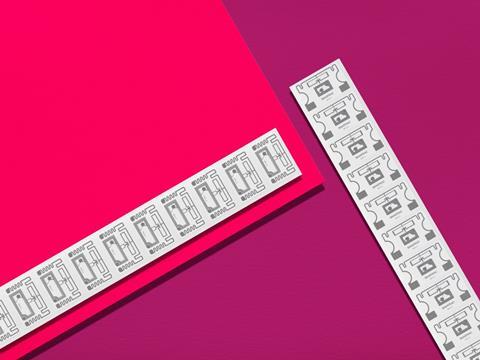 Avery Dennison has expanded its dual-frequency inlay range with two new additions that combine near-field communication (NFC) and RFID technologies for item-level tagging in retail and pharmaceutical applications.
According to Avery Dennison, dual-frequency capabilities offer all-in-one solutions for inventory management and product authentication. The company says its new AD Medio Web DF EM4425 and AD Web DF EM4425 V12 inlays and tags are designed for brand protection, supply chain management, and customer engagement.
AD Medio Web DF has been developed for pharmaceutical and healthcare applications. Avery Dennison explains that AD Medio Web DF EM4425 tags have a compact form factor (48 mm x 31.5 mm /1.89 inch x 1.24 inch), which can be easily converted into end-application usage, and are available in paper tag delivery format.
Meanwhile, AD Web DF focuses on retail applications. AD Web DF EM4425 inlays and tags are also compact (53 mm x 33 mm /2.08 inch x 1.29 inch), which the company says makes them equally easy to convert into end-application usage, and are available in paper tag and wet delivery format.
Dual-frequency technology also offers shared memory functionality, Avery Dennison notes. The inlays combine NFC (HF) and RAIN RFID (UHF), which apparently means each interface can be used to update product information in real-time.
Avery Dennison adds that retailers can use RAIN RFID technology to establish a cost-effective inventory and supply chain management system, allowing them to know where the item is in-store or across the supply chain. This level of accuracy can help protect against theft and improve inventory efficiency, such as faster product returns, according to the company.
The company explains that NFC technology allows consumers to verify the authenticity of a product and interact with the brand in-store or at home via smart devices. Additionally, this could allow consumers to access more detailed product information such as carbon footprint analysis. For pharmaceutical applications, enhanced information on dosage, origin, and ingredients can allegedly be provided.
Both AD Medio Web DF EM4425 and AD Web DF EM4425 come with EM Microelectronic's EM4425 V12 echo-V IC that is reportedly equipped with 2048 bits of shared user memory. It is accessible via UHF RFID and HF frequencies, which Avery Dennison says enables the use of inexpensive, generally available readers, such as NFC-enabled smartphones, as supplements to dedicated UHF RFID or HF reader infrastructures.
Avery Dennison Smartrac inlays are also compliant with ISO 9001:2015 Quality Management and ISO 14001:2015 Environmental Management.
Earlier this year, Avery Dennison acquired TexTrace, an integrated RFID products company, with the aim of developing textile RFID labels that remain on garments as a sewn-on label or built into the seam for their entire lifetime.