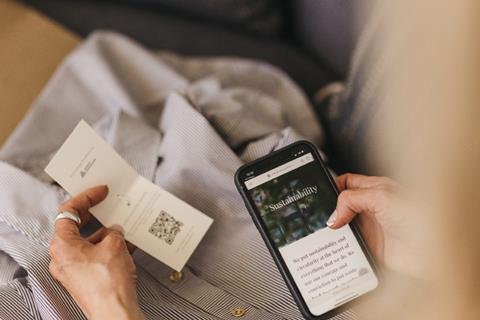 Avery Dennison has collaborated with The R Collective, supplying the fashion brand with QR code labels for garments that provide brand transparency information when scanned and digitally enabled garment bags that it claims are plastic-free.
According to Avery Dennison, it will supply Digital Labels that will be attached to The R Collective's REVIVAL project fashion garments. The labels apparently feature a QR code, which, when scanned, provides access to information on The R Collective's sustainability claims, such as product-level carbon and water savings.
Avery Dennison adds that it has developed a plastic-free garment bag for The R Collective, which it claims is highly transparent, durable through the supply chain, and kerbside recyclable. The company says the bags provide an alternative to polybags, which are reportedly only recyclable once or twice.
In addition, Avery Denison claims that the garment bags are digitally enabled with QR codes and can be used direct-to-the consumer as garment packaging. As part of the collaboration, the companies have also launched an R Collective branded e-commerce mailer, which they claim is made from kraft paper that can be easily recycled by the consumer.
The R Collective's REVIVAL design project features fabrics, such as silk, cotton, and jerseys, that the brand claims are "rescued" from leading global fashion brands. The brand says that the womenswear garments have been designed "using different textile waste streams".
Representatives from the European beverage industry have criticised the textile industry's use of recycled material derived from PET bottles, which they consider downcycling as garments are often landfilled or incinerated after use. The textiles segment is reportedly encouraged to prioritise "fibre-to-fibre recycling" by the EU Strategy for Sustainable and Circular Textiles, and the beverage industry has called on the European Union to allow it first refusal or priority access to rPET in order to meet legislative targets.
Caroline Hughes, senior product line manager of packaging at Avery Dennison RBIS, comments: "What's special about this collaboration, and our ongoing work with The R Collective team, is our joint focus on reducing waste in the fashion industry. Now it's a case of looking beyond raw materials and ensuring they are renewable, and looking ahead to assess end of life closely too.
"We are striving to broaden the solutions we offer via extensive research and development. Making Avery Dennison's packaging solutions recyclable has been a huge focus, as this is a highly effective way to actively reduce waste and promote circularity.
"These sustainable packaging innovations are being propelled further by digitization. In this case, the digital element will enable The R Collective to further educate their customers about the important work they're doing and can be easily accessed via the QR code on the packaging and through the garments' Digital Labels."
Earlier this year, Avery Dennison Smartrac acquired TexTrace with the aim of providing textile RFID labels that remain on garments for their entire lifetime, either in a sewn-on label or built into a product's seam. The company has also launched ultra-small form factor versions of its NFC tag solutions, anticipating demand for smaller tagging options in retail and packaging.
Avery Dennison's collaboration with The R Collective is part of a series of partnerships focused on the use of digital labelling solutions to enhance end-of-life solutions for fashion garments.