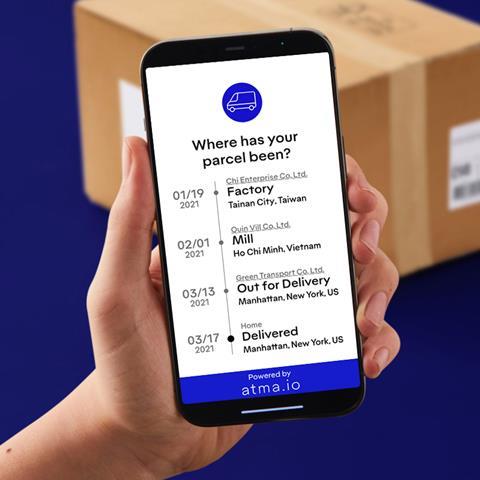 Ahead of the Sustainability Awards 2021 winners being announced later today, we speak with finalist Avery Dennison about their connected product cloud, atma.io.
Congratulations on being selected by the international judging panel as a Sustainability Awards 2021 finalist! Could you please introduce your successful entry and what's innovative about it?
atma.io connected product cloud by Avery Dennison is an open, modular, and flexible platform "built on the shoulders of giants", benefiting from our established network as a Fortune 500 company.
Quite simply, it is a platform that can assign and manage digital identities across billions of diverse products. With atma.io any product can be assigned with a digital ID – from clothing to food to other everyday household products.
And it doesn't matter what is placed on the packaging – it could be an RFID tag, a QR code, or even the barcodes we still know and love. The intelligence is in the platform itself and it changes the way that brands interact with their customers and their suppliers.
Because we can now track, store and manage all the events associated with each individual product (and its constituent parts) from source to consumer and beyond, it means unpreceded transparency. By knowing what each product is made of, it can be reused, remanufactured, or recycled more easily. Retailers can set up 'second life' schemes, for instance.
End-to-end transparency makes counterfeiting considerably harder. Products are 'born' with a 'product birth certificate' – retailers can collect and share information about where and how products are made and what they are made of, giving them a competitive advantage via a deeper relationship with their customers.
What are the environmental challenges in packaging that your entry addresses, and what impact do you hope it will make?
It's at the heart of why we developed atma.io, we've mentioned transparency above. It encourages brands, retailers, and their suppliers to adopt best practices and share them with their customers, who increasingly want to only deal with brands who 'do the right thing' and can demonstrate that.
We've also touched on re-use schemes but product identification means we know exactly what materials products are made of so they can be recycled more easily and this affects packaging as well, whether it's reusable cups, recyclable cartons, etc. Expiry date management becomes easier with atma.io – it should mean that less food and medicine gets spoiled and wasted, for instance.
Because a core market for atma.io is the supply chain, it will become easier to iron out bottlenecks and boost efficiencies, which will directly impact the amount of packaging that gets consumed in the supply chain. According to BCG, supply chain efficiency and operational excellence can help save 7-20% of costs and reduce wastage in the business, a lot of which is packaging that has a big environmental footprint.
Some of our customers are already finding they can identify and communicate the carbon footprint for every product they make. They're also finding that they can share more data with their suppliers and can have greater confidence that the production of their products is tightly regulated – again, this is a major benefit for the environment.
I'd like to ask you about the broader picture beyond your successful entry. 'Sustainability' in packaging is multi-dimensional – both in terms of objectives and challenges. Could you comment on the most important roadblocks you identify from your position in the value chain, and the kinds of solutions you would like to see addressing them (e.g. areas of technological innovation, collaboration, regulation)?
Regulation is moving in our favour. The EU has already banned single-use plastics across a range of products from July this year. By 2025, 77% of bottles will have to be put back in the market and by 2026 legislation will also apply to food containers and beverage cups. This is encouraging the take up of new models such as hot drink cup re-use schemes which use RFID and QR codes to return deposits back to their users. Fast food outlets are trialling similar schemes.
In general, the shift is moving towards better packaging that will last for a long time rather than disposable products going to landfills. Roadblocks tend to be around schemes that are universal. A global coffee shop chain is unlikely to work with another, for instance – and this is common across all industries.
We'd like to ideally get to a point whereby there was some collaboration with multiple brands on common technology standards and re-use points whilst ensuring they retain their own data and relationships with their customers which is so important to them.