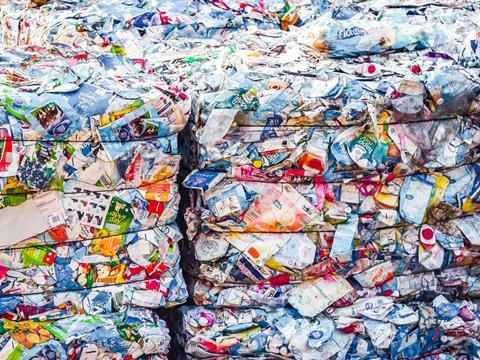 Fost Plus has signed a contract with Morssinkhof Plastics Belgium to build a new recycling plant and convert polypropylene, polyethylene, and HDPE packaging waste into raw materials for further packaging production – expecting to recycle around 40,000 tons of plastic packaging annually.
Fost Plus plans to provide the centre with 24,000 tonnes of PMD waste sourced from Belgian households. Its processing capabilities are said to range between polypropylene solutions such as ready-meal trays, yoghurt cups, and butter dishes, and HDPE bottles for milk, shampoo, detergent, and shower gel.
These will be converted into recycled plastic granules to be used in the production of new packaging. It is hoped that the recyclate will be of such high quality that it can be reused in its entirety and that it will be supplied to the local Belgian market as much as possible.
Only 9% of plastic packaging material is thought to have been recycled in Belgium in 2020, with the rest being exported to neighbouring countries. Fost Plus' new recycling centre is the last of five new facilities being built across Belgium, with three new operational – the simultaneous efforts of all five are expected to see a 75% domestic recycling rate for plastic packaging from 2025.
The 4.1-hectare recycling centre represents an investment of €30 million and will be built at the Kristalpark III business park in Lommel; the accessibility of this location via motorways, railways, and waterways, as well as its proximity to the province in general, is expected to provide strategic added value. Kristalpark III is also home to the largest solar park in the Benelux, with its 300,000 solar panels expected to contribute to the factory's sustainability.
Furthermore, the centre will apparently become synergetic with the nearby Morssinkhof Rymoplast site in an effort to secure its successful start-up and efficient operation. Its opening in October 2024 is anticipated to create sixty-five new jobs over time.
"We are very pleased with this new factory," says Wim Geens, managing director of Fost Plus. "Thanks to the good reflexes and efforts of our compatriots, who ensure that all packaging ends up in the blue bag, we are today among the European top in terms of recycling.
"It has always been our intention to keep this recycling as close to home as possible. This new factory is the final step in the creation of a local circular economy, making Belgium a recycling hub in the heart of Europe."
"As a pioneer in plastic recycling and a major player in plastics processing, we are pleased to be able to build this new factory," continues Eric Morssinkhof, owner of Morssinkhof Plastics. "By using the latest recycling technologies, we will make a major contribution to closing the loop of HDPE and PP packaging on the Belgian market. We are therefore proud to be able to expand our activities in Belgium, where we have been active since 1990, this way."
The five new recycling centres also coincide with the introduction of the New Blue Bag in Belgium, in which plastic and metal beverage containers can now be discarded in the blue PMD-PMC waste bag. To accommodate this, it is reported that five new sorting centres have also been built and $1 billion has been invested into Belgium's local circular economy.
PureCycle Technologies is constructing its own polypropylene recycling facility at the Port of Antwerp-Bruges' NextGen District and anticipates an annual capacity of 59,000 metric tons.
In other countries, the ALPLA Group and its joint venture partners' PET recycling plant recently entered operation and claim to produce around 18,000 tonnes of recycled material a year from household waste.
A new recycling site for hard-to-recycle plastics, operated by Yes Recycling and co-owned by UK-based retailer Morrisons, has opened in Scotland with the goal of repurposing 15,000 tonnes of post-consumer packaging at full capacity.