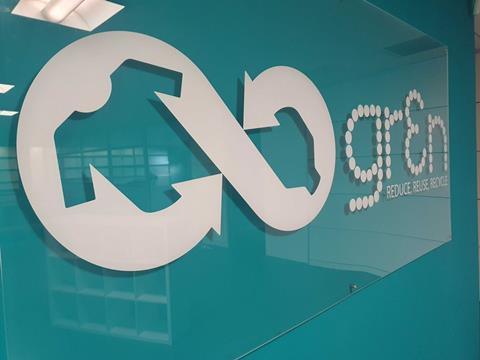 gr3n and Intecsa Industrial are entering a joint venture to build a 'first-of-a-kind' manufacturing facility for the microwave-assisted depolymerisation of PET – aspiring to produce 40,000 tons of recycled PET a year by 2027.
The facility will make use of gr3n's MADE technology, which can apparently process post-industrial, post-consumer, and hard-to-recycle PET waste. It breaks the polymer down into monomers, then reconstructs them back into a polymer – a process that, theoretically, enables the infinite recycling of plastic materials into brand new virgin polymers.
As they are said to offer the same functionality as feedstock material from fossil fuels, the re-polymerised polymers are set to completely replace fossil-based plastics, and will be implemented back into new bottles, trays, and/or garments in bottle-to-textile, textile-to-textile, and textile-to-bottle recycling processes.
The post-consumer and/or post-industrial polyesters will be sourced from coloured, colourless, transparent, and opaque bottles, as well as textiles – 100% polyester as well as mixtures with PU, cotton, polyether, polyurea, and more, with up to 30% of the raw textile present.
Expected to save 2 million tons of CO2 in its operating life, the facility hopes to bring enhanced recycling to industrial scale, close the loop on PET, provide food-grade polymer material, and divert waste away from incineration and landfill.
gr3n aims to become the world's leading PET supplier. It has signed a binding Memorandum of Understanding (MOU) with Intecsa Industrial and will commence the EPC phase in Q4-2024; the facility will be based in Spain and is hoped to commence its operations in 2027.
"This is a huge step for gr3n, as it will allow us to grow even more, showing enhanced recycling is something tangible and that it is possible to bring MADE, our Microwave Assisted Depolymerization, to market," said Maurizio Crippa, founder and chief executive officer at gr3n. "Shareholders have the full view on gr3n's operations, so moving forward with one of them is further confirmation of their trust but also of the strength of the data and the results generated."
"gr3n has the potential to change the recycling industry, as their technology allows us to tackle things other technologies cannot," continued Ramiro Prieto, Commercial and New Business Units director at Intecsa Industrial. "This means expanding the raw material that can be recycled, then accelerating the transition to the circular economy.
"As industrial partner and shareholder, we are part of the board, but we have also had the opportunity to perform the basic engineering of the industrial plant, thus we are well acquainted with the technology which we firmly believe is now ready to level up."
Ernesto De La Serna, director of New Developments and Innovation at Intecsa Industrial, added: "We're really thrilled to see all the great things gr3n is up to and how they've been pushing the boundaries of technology, and we believe that gr3n's technology will be a key player in the path towards the closed loop of PET sector. Our partnership with gr3n reflects our focus on accelerating the implementation of Intecsa's deep technical and operational expertise in industrial plants. At Intecsa we are convinced that this will be a game changer."
ALPLA has made its own progress in PET recycling this year, including commencing production at its Romanian recycling plant, which was opened in collaboration with United Polymer Trading and Ecohelp.
It is also looking towards a 35,000-tonne output of rPET flakes and pellets from its recycling plant in Ballito, South Africa, and has invested €8 million into a third extrusion line at its recycling plant in Radomsko, Poland, in a bid to raise its annual food-grade rPET production by 24,000 tonnes.
Earlier this year, Fost Plus signed a contract with Morssinkhof Plastics Belgium to convert PET, amongst other plastics, into raw materials at a new recycling plant with its own annual recycling rate estimated at 40,000 tons.
If you liked this article, you might also enjoy:
The Lidl approach to packaging sustainability
How did Brazil achieve its 100% aluminium can recycling rate – and can it be replicated in the EU?
Experts have their say on the EU's Packaging and Packaging Waste Directive revisions
A deep dive into the most important packaging sustainability trends and solution