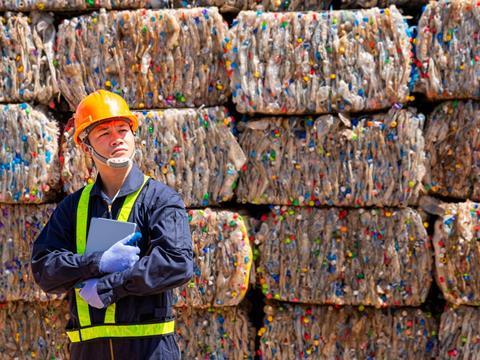 Swedish Plastic Recycling has announced that the grand opening of its Site Zero plant site – which aspires to recycle all kinds of plastic packaging without emitting CO2 – will take place on 15th November, intending to commence a 'new era' for the recycling of plastics.
At approximately 60,000 square metres in size, Site Zero reports an annual receiving capacity of 200,000 tons of mixed household plastic packaging and a sorting speed of 1,000 pieces of packaging every second using sixty NIR sensors, laser and camera technology.
One billion SEK has been invested between 2019 and 2023. Now Swedish Plastic Recycling says that the plant has been tested with 'sensational' results; up to twelve types of plastics can apparently be separated and recycled, whereas similar European plants are thought to handle three or four at a time.
As such, it is expected that 'practically all' plastics in the Swedish packaging market will be able to undergo treatment and be re-introduced into a circular economy.
Mattias Philipsson, CEO of Swedish Plastic Recycling, comments: "Site Zero exceeds all expectations; we are now entering a new era of plastic recycling. This plant will be the driving force for the transition that needs to be made worldwide to significantly reduce climate impact and the need for fossil plastic raw materials, and to make plastics part of the circular economy."
Visitors from across Europe are expected to attend the inauguration. An on-site press conference will take place to share the recycling results and insights from the test period, among other information.
Representatives from the Swedish Environmental Protection Agency, TOMRA, and companies from Sweden's food trade industry will also be present.
When it was first announced in 2021, the site looked towards complete climate neutrality. Swedish Plastic Recycling stated that the plant would be powered by renewable energy, and any plastic that the facility could not recycle was set to be sent for use in Carbon Capture Storage (CCS), or energy recovery without climate emissions.
Also in Sweden, Tetra Pak and Axjo Group are conducting a feasibility study to build a new recycling plant for the polyAl layers in carton packages. The plant would have an annual recycling capacity of 10,000 tonnes, the companies say.
Similarly, a new recycling plant for hard-to-recycle soft plastics opened in Scotland earlier this year. Co-owned by supermarket chain Morrisons and operated by Yes Recycling, it seeks to prevent the exporting of end-of-life plastics, instead repurposing an annual 15,000 tonnes of post-consumer packaging at full capacity.
Amcor and Mondelēz International have also signed investment agreements to help Licella construct what claims to be one of the first advanced recycling facilities in Australia and work towards processing 12,000 tonnes of end-of-life plastics every year.
If you liked this article, you might also enjoy:
The Lidl approach to packaging sustainability
How did Brazil achieve its 100% aluminium can recycling rate – and can it be replicated in the EU?
Experts have their say on the EU's Packaging and Packaging Waste Directive revisions
A deep dive into the most important packaging sustainability trends and solutions