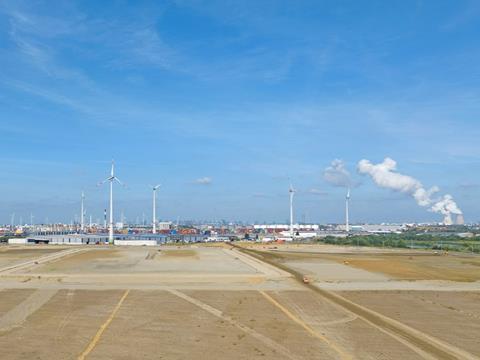 PureCycle Technologies, Inc. has announced its intent to build its first European polypropylene recycling facility at the Port of Antwerp-Bruges' NextGen District facility in Belgium with an expected annual capacity of 59,000 metric tons.
As the plot is fourteen hectares in size, it is thought to provide space to build up to four processing lines with an anticipated total capacity of around 240,000 metric tons every year – providing PureCycle with opportunities for future expansion.
Commercial operations are expected to begin when the first processing line has been built, with active negotiations with potential feedstock and offtake partners already taking place. The polypropylene purification plant is expected to supply the European market with PureCycle's UPR resin and create between 65 and 70 new jobs for local residents during the project's initial phase.
The company says that it is currently sourcing feedstock and engaging in financial planning and looks to secure a final project timeline by mid-2023. As such, construction is expected to begin in 2024. A variety of funding options are currently being considered, from traditional financing sources to uniquely available grants and subsidies for circular projects established in the EU.
"The announcement of our first location in Europe marks the next phase in executing PureCycle's global growth strategy," said Wiebe Schipper, vice president of European Operations at PureCycle. "We are excited to bring our Ultra-Pure Recycled (UPR) resin to customers in Europe, where companies and policies are at the forefront of the circular economy. Being in the NextGen District will enable us to capitalize on existing efficiencies, collaborate with other innovators in the space and forge new partnerships.
"We want to thank the Port of Antwerp-Bruges for believing in our mission and for providing the support necessary to get this project off the ground. Our team at PureCycle looks forward to creating a more sustainable future together."
Jacques Vandermeiren, CEO of Port of Antwerp-Bruges, added: "The Port of Antwerp-Bruges' NextGen District is committed to creating an innovation hotspot where companies dedicated to building a circular economy and developing sustainable solutions to some of the world's toughest climate and environmental challenges can thrive. We're thrilled to be partnering with PureCycle on this strategic project to help bring that vision to life."
Minister-President of Flanders, Jan Jambon, concluded: "PureCycle selected Flanders as the preferred location within the EU for the construction of its first European recycling plant. This confirms that Flanders is among the world leaders in waste collection and processing and strengthens our position even more firmly as a leading recycling hub.
"As a region that pioneers in circular innovation, we are extremely proud to welcome this new ecosystem-strengthening partner in Flanders."
Towards the end of last year, Futerro started negotiations to open a PLA biorefinery in the Port-Jérôme industrial and port area with an anticipated annual production capacity of 75,000 tons.
Similarly, Plastipak announced the opening of a new recycling facility in Toledo, Spain, which would convert PET flake into food-grade rPET.