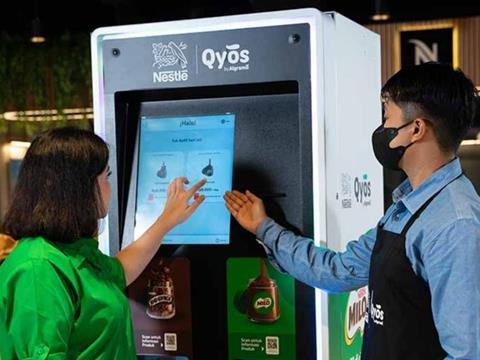 Nestlé is piloting refillable vending machines for its Milo and Koko Krunch cereals in a bid to contribute towards the reduction of disposable packaging.
During the four-to-six-month trial period, consumers will be encouraged to bring their own containers or buy those provided at the two participating retailers in Indonesia. They will be able to access product information such as ingredients, nutritional value, and shelf life by scanning a QR code.
Nestlé's Indonesian teams worked alongside the company's R&D centres in Singapore and Switzerland to facilitate the refill system, while the vending machines were developed in collaboration with Qyos by Algramo. It is believed that the joint effort has resulted in a solution that takes local conditions, such as heat and humidity, into account to ensure the safety and freshness of products across the supply chain.
This pilot builds on another conducted in South Jakarta in 2021, this one enable consumers to purchase Milo, Koko Krunch, and Dancow products from tricycle carts fitted with refillable dispensing systems. Nestlé states that the knowledge gathered from the previous trial has enabled the company to undertake a second phase.
"We are actively exploring innovative, alternative delivery systems such as bulk, reuse and refill options across several product categories," explains Gaelle de Mestral, head of R&D Packaging at Nestlé. "By undertaking this second pilot for Milo and Koko Krunch, we'll be able to gain new insights that can be applied to our products, as well further assess the refillable system's effectiveness in preventing packaging waste along the supply chain."
Samer Chedid, president director of Nestlé Indonesia, adds: "Locally, we are pursuing the development of sustainable packaging by launching a second study for the refillable system. We hope that through the Nestlé x Qyos refilling machine technology, we can support the government to encourage people to reduce the use of packaging while also contributing to environmental sustainability goals in Indonesia."
Coca-Cola Europacific Partners has invested over €40 million into its refillable bottling infrastructure in Germany in the hopes of improving consumers' access to drinks sold in returnable glass bottles and increasing the sustainability of its own value chain.
Furthermore, Nescafé has unveiled its new, recyclable refill pouch for instant coffee, which reportedly contains an average of 60% less plastic than the lid of a 200g glass bottle and cuts down on unnecessary packaging.
TOMRA has also revealed five new reverse vending machine concepts for beverage containers, pursuing such goals as sustainability, the implementation of artificial intelligence, and developments in its own multi-feed reverse vending technology.