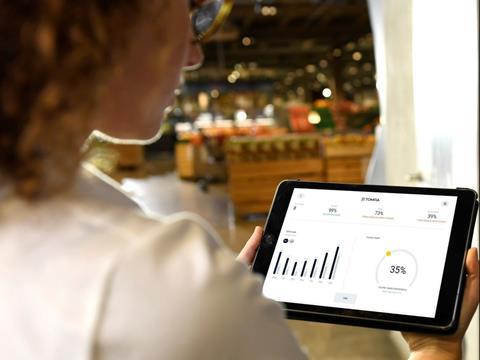 TOMRA has revealed five new reverse vending machine concepts for beverage containers, including developments in its multi-feed reverse vending technology, artificial intelligence, and operational efficiency, as well as redesigns in the pursuit of sustainability.
With the existing TOMRA R1, consumers can utilise multi-feed reverse vending, or the deposit of multiple aluminium cans and plastic bottles in bags – negating the need for users to insert their containers one by one. According to the company, stores currently making use of the machine have seen, on average, an 86% increase in containers returned and a 33% increase in consumer sessions.
TOMRA's new multi-feed concept aims to bring the same concept to a wider variety of stores with its smaller physical footprint, as well as increased flexibility and layout options thanks to its reported compatibility with all TOMRA backroom solutions.
"We have had huge interest from retailers and consumers in the more convenient and engaging multi-feed innovation," explains Gudbrand Arnesen, head of Product & Solution Management at TOMRA Collection. "Our new concept means multi-feed recycling is for everyone: soon all retailers can offer this new standard in reverse vending."
Secondly, the new premium single-feed concept is intended to usher in more efficient store operations, increase operational efficiency, and facilitate easy updates with further technological development. In use, it apparently allows consumers to opt out of printing a receipt to cut down on wasted paper, while its power-saving modes are hoped to reduce unnecessary power consumption.
It also features redesigns of both the physical machine with fewer and easier-to-recycle materials, a keyless electronic lock door, and smoother surfaces for easier and faster cleaning; and its user interfaces for a more personalised consumer experience – including a larger in-feed cone with guidance lights and a proximity sensor enabling the machine to recognise when a consumer is approaching and "wake up" to greet them.
TOMRA's new vertical backroom solution is the first of its kind in the company's portfolio and is set to provide additional height for storage cabinets in small to medium stores. It is intended to fit in with roller cage load carriers as a familiar and convenient solution for most supermarket storage rooms.
"Adding height to drink container storage means retailers can reduce the amount of valuable space that container storage takes up in store, or alternatively keep the same footprint and increase their capacity," Arnesen continues. "This concept means stores can collect higher volumes and reduce the need for frequent bin emptying, with our most compact backroom solution ever."
Additionally, an "over the air" digital concept is expected to combine different reverse vending data and functionalities, including self-configuration of the machine, notifications when action is required, and information for planning day-to-day operations such as cleaning performance and machine usage. It intends to serve as a 'digital colleague' and allow customers to reduce unplanned downtime, with dashboards for both operators and store management and administration currently demonstrated via a prototype app.
Similarly, the fifth solution is also based in AI – this one being a "smart service" concept designed to utilise predictive service and maintenance as another means of preventing unplanned repairs. As a data-driven solution, it is expected to keep operators up to date with the health and status of the reverse vending machine components.
This solution claims to be the first to give stores direct access to a reverse vending machine's service data, and TOMRA anticipates that it will extend the lifespan of its components and increase the operational efficiency of the machine.
The working concepts of the five machines will be displayed at the EuroShop retail trade fair in Düsseldorf between 26th February and 2nd March.
"EuroShop is the world's biggest retail trade fair, and we are excited to preview for our retail customers TOMRA's vision for the future of reverse vending," adds Arnesen. "The TOMRA concepts span the entire product portfolio – from single-feed and multi-feed returns and backroom storage, to digital and service concepts – as TOMRA continues to set the pace for reverse vending innovation."
The developments follow the release of the TOMRA M1, which claims to be the smallest three-material reverse vending machine on the market. The plug-and-play solution also hopes to enable smaller organisations to participate in deposit return schemes.
Although it does not mandate the use of reverse vending machines, Slovakia's national deposit return system, which makes use of TOMRA technology, is reported to have received 820 million returned containers and exceeded its expected return rate within its first year of operation.