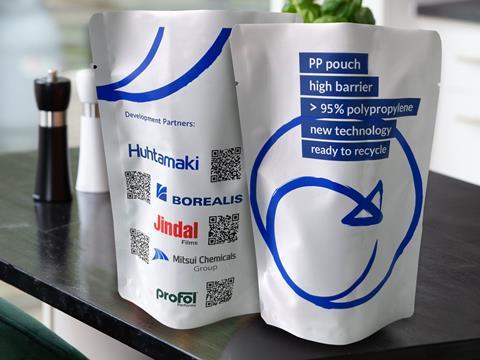 Borealis is unveiling a mono-material, designed-for-recycling pouch said to contain over 95% polypropylene and set to package dry food products.
This packaging format was developed in collaboration with Borealis' value chain partners and aims to meet the recycling and waste reduction targets set out in the EU's Packaging and Packaging Waste Regulation (PPWR). It also intends to meet eco-modulation criteria for Extended Producer Responsibility (EPR) programmes.
Conventional adhesion lamination structures previously yielded pouch laminate materials containing around 90% polypropylene, according to Borealis, although its recent efforts have increased this figure. Laminating PP cast and BOPP films in the extrusion lamination process is said to result in mono-PP laminates with stable processibility and good laminate bond strength.
Mitsui Chemical Group has provided tie layers, including polyolefin-based tie resins, to be used in conjunction with Borealis' polypropylene extrusion coating and lamination grade portfolio. The cast films have been produced by Profol.
Jindal Films also contributed to the pouch's development with its expertise in specialty BOPP film development and manufacture, while laminates from Huhtamaki Flexible Packaging have been applied to the pouch.
Apparently offering 'excellent' sealing properties and stiffness, the high-barrier properties of the pack aim to protect dry ingredients, powders, coffee, and snack foods against moisture, oxygen, aromas, and light. In turn, it is thought that edible products will experience a longer shelf life and be less likely to go to waste.
Borealis also claims that, when the pouch is processed in polypropylene recycling streams at end-of-life, it can provide greater volumes of high-quality recyclate for use in flexible, non-food polypropylene packaging. This is hoped to enable the reduction of packaging waste and stimulate the market for recycled content.
"In re-inventing essentials for sustainable living, our aim is to uphold the integrity and quality of packaging materials while ensuring that these convenient formats are more and more circular," says Peter Voortmans, global commercial director of Consumer Products at Borealis. "We are very proud of this value chain collaboration. It equips our partners and customers with yet another viable and more sustainable solution to help manage the updated requirements of the PPWR."
EU Member States operate under different eco-modulated EPR fees based on packaging recyclability credentials and recycled content. However, this pouch is described as meeting CEFLEX's definition of "fully compatible to mechanical recycling PP" – therefore, Borealis believes it to be a cost-saving alternative to conventional, multi-material pouch formats.
Coffee roaster Löfbergs recently worked with Amcor to release a mono-material pouch solution for its coffee packaging. It is apparently compatible with both chemical and mechanical recycling and aims to offer a 55% reduction in carbon footprint.
Parkside's new lightweight, mono-polymer laminated film is manufactured from polypropylene substrates and aims to replace non-recyclable aluminium foil and PET structures in packaging applications.
If you liked this article, you might also enjoy:
McDonald's Director of Sustainability in Europe on the company's approach to packaging sustainability
McKinsey on whether or not on-pack sustainability claims affect consumer spending
Perspectives from industry-leading experts on the EU's Packaging and Packaging Waste Directive revisions
A deep dive into the most important packaging sustainability trends and solutions