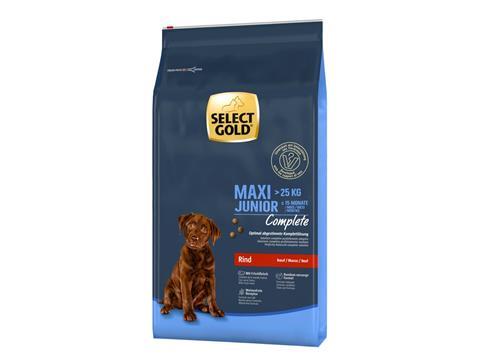 Mondi is collaborating with Fressnapf to roll out recyclable mono-material packaging for its dry pet food range – decorating the packs using process colour printing technology with a lower reliance on inks and chemicals.
Mondi's FlexiBag Recyclable, BarrierPack Recyclable, and Recyclable StandUp Pouches will be used to package Fressnapf | Maxi Zoo's exclusive brand SELECT GOLD dry pet food range. Around 150 packaging designs for a range of weights – between 300g and 12kg – have reportedly been produced, all of which are designed for ease of use and long shelf lives for their products.
The pouches are certified by Institut cyclos-HTP as recyclable with other mono-PE films in various existing European recycling streams and apparently offer strong barrier properties against moisture, fat, and odour.
Furthermore, the SELECT GOLD range is said to feature an expanded colour printing gamut and new screening technology from U.Günther. This process is said to utilise fewer inks and zero chemicals from the plate production, as well as increase the transition speed between designs as the colours do not need to be changed.
"Consumers across the globe are calling on companies to contribute to a circular economy, and rightly so," says Fitore Loshaj, Regional Sales Germany, Austria & Switzerland for Consumer Flexibles, Mondi. "Our team worked closely with Fressnapf | Maxi Zoo to design a packaging solution for its dry pet food range, that is recyclable, fit-for-purpose and visually appealing – protecting the product while being easy to use."
Yannick Christiaens, senior expert lead Product Development & Sourcing Dry Food at Fressnapf | Maxi Zoo, adds: "Collaborating with Mondi made this a truly enjoyable process. Our two and four-legged customers trust us, they know we love pets and that we are committed to creating a better world for all of us.
"This is part of that - our 150 different pack designs are part of our sustainability journey and there will be more to come, all of which will lead to fulfil our vision 'Happier pets. Happier people.'"
Earlier this year, ProAmpac revealed a multi-wall, paper-based self-opening-sack bag as part of its patent-pending PRO-EVO Recyclable platforms. The bag is certified for curbside recycling and designed for dry pet food applications.
Similarly, a wide-format MDO-PE bag for pet food packaging – which also claims to be recyclable – was produced in a collaboration between Dow Packaging & Specialty Plastics, W&H, and B&B late last year.
If you liked this article, you might also enjoy:
McDonald's Director of Sustainability in Europe on the company's approach to packaging sustainability
McKinsey on whether or not on-pack sustainability claims affect consumer spending
Perspectives from industry-leading experts on the EU's Packaging and Packaging Waste Directive revisions
A deep dive into the most important packaging sustainability trends and solutions