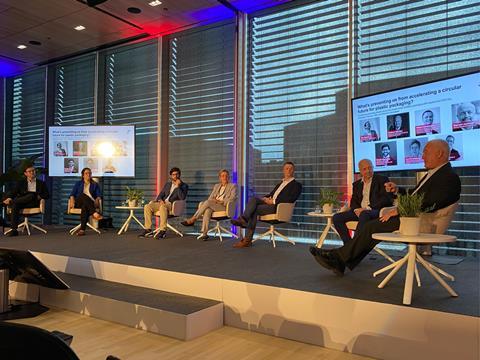 The pressing issue of plastic packaging circularity, specifically focusing on PET, took centre stage in a recent round table discussion held at interpack 2023, hosted by Klockner Pentaplast ('kp') and featuring experts from CEFLEX, Petcore, UBE Corporation Europe, and Indorama.
The panellists shared their views on the challenges and opportunities in achieving a circular economy for plastic packaging. Each of the experts offered insights into their sustainability strategies, successes and ongoing challenges in their respective roles and industries; the common thread being a shared goal of promoting and achieving circularity in their processes and products.
The hour-long discussion revolved around the key needs of industry collaboration, brand owner involvement, improved plastics industry public perception, ambitious recycling goals, and the impact of legislative constraints and the inevitable changes needed for a sustainable future.
More supply chain collaboration is needed
Collaboration emerged as a crucial element in achieving PET circularity in the discussion. Willem Christiaans of Indoroma Ventures Recycling Group stressed the need to work together across the entire value chain, including industry organisations, manufacturers and brand owners.
The panellists agreed that a collective push is necessary to address market challenges and accelerate progress. This collaboration would fundamentally drive the need for innovation and facilitate knowledge sharing to establish common goals and standards, they believe. By working together, it is hoped that stakeholders could create a more efficient and effective system for plastic packaging recycling that works for all parties.
Brand owner involvement is a must
The panellists emphasised the need for increased participation by brand owners in developing effective recycling platforms and design guidelines. Rafael Jaumotte from Petcore Europe, the European association for companies and member associations involved in the PET value chain, called for more evaluation, development of design for recycling guidelines, and increased promotion of the circularity of the thermoformed PET packaging to consumers.
Petcore is involved in the creation of design guidelines and has developed a platform to make assessments of these guidelines specifically for PET thermoformed packaging. He stated there was a vital need to balance sustainability and functionality in packaging, which sometimes brands, and their designers, get wrong.
Packaging must be fit for purpose – to protect, preserve and present goods efficiently – to avoid waste and negative environmental impacts in the supply chain and not just 'appear' sustainable from an aesthetics perspective. The panel also unanimously agreed that focusing on the practicalities of designing for recyclability without compromising food safety and protection was paramount.
Brand owners play a vital role in shaping product design and material choices and therefore their involvement is crucial in driving demand for recycled materials, influencing packaging design for recyclability, and sponsoring a circular economy ecosystem.
It was also agreed that there is a key need for packers and retailers to be involved, being a key part of the PET value chain. However, it was discussed that this may face resistance as it necessitates a shift in responsibility, which may not be welcomed.
Shifting perceptions – the plastics and packaging industry image needs attention
The panel discussion emphasised the need to shift public perception of the plastics industry, which has been under heightened pressure in recent years to improve its environmental performance.
Graham Holder from CEFLEX - a European consortium of companies and associations representing the entire value chain of flexible packaging that focuses on enhancing the performance of the format in the circular economy - highlighted the importance of projecting a positive message to showcase how the industry can contribute to sustainability and climate change objectives. "We need to put our best foot forward and explain just how good we are at helping the world to achieve its climate change objectives," he stated.
More ambitious recycling goals should be established
By setting and striving for more ambitious recycling targets, the organisations believe that companies can drive the circularity agenda forward and increase the availability of recycled materials in the market. As an example, Willem Christiaans talked about Indorama's goal of recycling 1500 Kilotons of PET per year by 2030. However, it was agreed that this drive can create difficulties.
Ana Fernandez, global innovation director at kp, raised the issue of the current competition that exists between PET packaging producers and the bottle market. It was argued that balancing the demands of both sectors, while prioritising circularity, poses challenges that will require further exploration and discussion.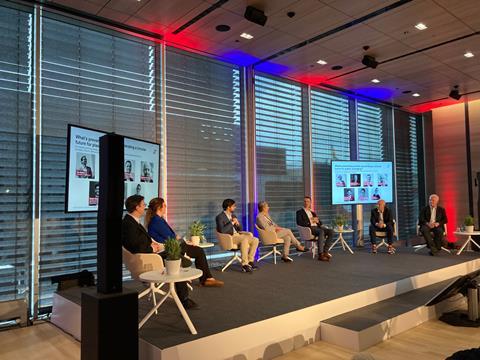 In addition, the organisations argued that the need for multi-layer trays and flexible packaging to meet product protection and shelf-life needs often means the pack design becomes complex comprising different materials and components, such as foils, seals and labels, that can hinder recyclability. Bottles, for example, are more straightforward to recycle than trays due to their simpler design.
Moving towards mono-material products to simplify the recycling process was discussed, as separating mixed materials in the recycling process continues to be a challenge.
The panellists agreed that new technologies to improve sorting and recycling are desperately needed and declared the potential of the digital watermarking Holy Grail 2.0 project, which can differentiate between mono and multi-materials in the recycling process, to be a game-changer.
Legislative synergy is missing
The challenge of complying with what was described as "an evolving and fragmented legislative situation", while achieving circularity, was discussed at length. The panel agreed that circularity is the only way to meet current regulatory requirements and close the recycling loop. Legislation clearly plays a vital role in setting standards and ensuring a level playing field for all competitors. By aligning regulatory frameworks, it is hoped that the industry can navigate requirements and constraints more effectively and drive the adoption of sustainable practices.
Aida Cierco, group sustainability senior manager at kp, pointed out the need for better reporting guidelines on the circular economy for increased transparency and that the use of the same methodologies across companies would avoid unnecessary complexity.
Recommended next steps
While discussing the complexities of transitioning to a circular economy, the panel proposed that five crucial steps and four enablers were required to move forward:
1. A better understanding of the market to anticipate the materials that would be returned for recycling, enabling improved forecasting and planning of infrastructure investment
2. Knowledge of who can use recycled polyolefin materials, including identifying potential commercial end markets for these materials
3. Improved understanding of the recycling pathways needed to reprocess materials
4. Investment in sorting facilities and capacities to handle the materials
5. Collection of materials from the market
The panel then argued that these five steps must be underpinned by four key enablers: Design, Extended Producer Responsibility (EPR), Legislation, and Collaboration.
Design focuses on creating products that are easy to recycle and fit within the circular economy. EPR plays a significant role by funding parts of the system, thereby making it economically sustainable. Legislation sets the rules and ensures that all competitors are working under the same legal requirements towards sustainability. And finally, collaboration and communication are critical as the efforts to establish a circular economy cannot be achieved by individuals or single organisations, it requires a collective push.
In conclusion
The panellists highlighted the need to close the loop by converting recycled materials back into similar products (like tray-to-tray recycling) as a crucial step towards circularity. This will help the uptake of recycled material in the market, but the use of recycled content should not be limited to similar products but expanded to other applications to meet demand and further reduce carbon footprints.
It was acknowledged that there is an increasing focus on reducing greenhouse gas (GHG) emissions among companies and that using recycled content significantly contributes to this goal. This has meant that the demand for recyclate is shifting from being price-driven to sustainability-driven.
Importantly, there continue to be challenges with incorporating post-consumer recycled content into packs, as it presents different issues to virgin material, especially in maintaining the aesthetic and functional qualities of a pack design.
This requires further education of key stakeholders, including consumers, about the realities of using recycled materials and promoting acceptance of the differences as a sign of sustainability. Linked to this is the need to simplify packaging to improve recyclability and that common use of clear (versus coloured) mono-material packaging would increase the availability of high-quality post-consumer recyclate.
Notably, the panel stressed the importance of prioritising efforts to combat climate change over reducing plastic pollution. They argued that replacing plastics with other materials often results in higher environmental impacts and carbon footprints.
Finally, the discussion concluded with a call for better communication and collaboration across the plastic packaging value chain and a commitment to accelerating progress towards circular economy goals.
If you liked this article, you might also enjoy:
The Lidl approach to packaging sustainability
How did Brazil achieve its 100% aluminium can recycling rate – and can it be replicated in the EU?
Experts have their say on the EU's Packaging and Packaging Waste Directive revisions
A deep dive into the most important packaging sustainability trends and solutions