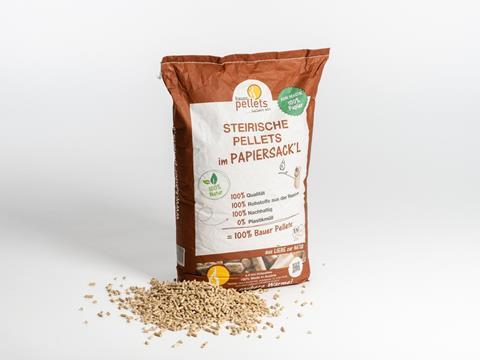 Mondi has developed recyclable kraft paper bags for Holz-Bauer's wooden pellets in a bid to phase out unnecessary plastic in the wood sector.
The PelletBags are developed from Mondi's 2-ply kraft paper, which is reportedly made from renewable, responsibly sourced fibres. The bags are printed and converted in-house by Mondi, then sent to be filled and closed through Holz-Bauer's secure sewing method in a static binder machine.
Available in white and brown in a range of sizes up to 25kg, they provide high tear resistance and easy storage and transportability, according to Mondi. Furthermore, they are apparently disposable in existing European recycling streams.
Holz-Bauer's 15kg PelletBags will replace the company's existing plastic bag solution and feature an artisan design based on its own product and business. It is said to source its sawmill residue from local businesses in a move intended to contribute towards the cascading use of wood.
Both companies envision that wood can be used in high-performance products with hygiene or strength requirements, such as kraft paper, and subsequently recycled until the residues are burned for energy at end-of-life.
Martin Bauer, owner of Holz Bauer, states: "Our whole company ethos is about providing natural products and keeping all materials that we use in the system as long as we can. By partnering with Mondi, we are working with a company that has the same goals - the team helped us create packaging that will be right for our products and our eco-conscious consumers."
"We work along the approach of using paper where possible, plastic when useful - PelletBags provide the required strength and protection to pack wooden pellets," adds Fabio Barbieri, sales director for Paper Bags at Mondi. "Using packaging from the same renewable resource as the contents themselves increases the brand value of the product, providing a sustainable and convenient solution for the end user."
In another collaboration, Mondi produced an expandable paper bag for Megaflex Schaumstoff's rollpacked mattresses – a development set to provide an alternative to traditional plastic wrapping.
Billerud has also unveiled its machine-glazed, biodegradable, and recyclable kraft paper designed to wrap kitchen and toilet paper rolls. The solution aims to reduce carbon emissions and offer the same strength as polyethylene alternatives.
If you liked this article, you might also enjoy:
McDonald's Director of Sustainability in Europe on the company's approach to packaging sustainability
McKinsey on whether or not on-pack sustainability claims affect consumer spending
Perspectives from industry-leading experts on the EU's Packaging and Packaging Waste Directive revisions
A deep dive into the most important packaging sustainability trends and solutions