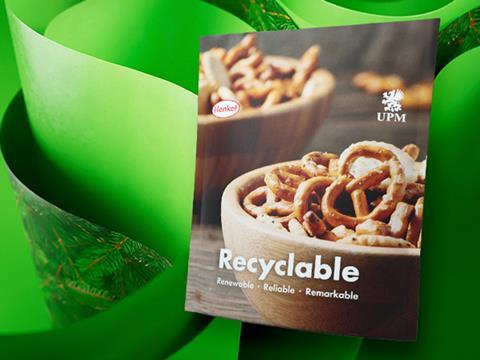 A collaboration between UPM Specialty Papers and Henkel has resulted in a new recyclable, heat-sealable barrier paper material that the companies say is compatible with existing packaging lines, while offering a "high level" of grease resistance.
The plastic coating traditionally required for protection and heat-sealing often renders the final product difficult to recycle. UPM Specialty Papers and Henkel have reworked the concept with the aim of helping brand owners and converters to meet growing consumer and regulatory demands for easy-to-recycle packaging.
"In line with our 2030 sustainability ambitions, our water-based LOCTITE LIOFOL HS 2809-22 RE heat seal and AQUENCE EPIX BC 6134 grease barrier coatings are easy to recycle, helping to recover more fibres and supporting a more circular economy. Together with UPM Specialty Papers, we have moved one step closer to bridging the gap between sustainable fibre-based packaging and traditional plastic packaging to support brand owners and converters in the transition to paper," says Christin Noack, Market Strategy Manager Paper Solutions at Henkel.
Existing UPM Asendo and UPM Asendo Pro barrier papers provided the starting point. These recyclable barrier papers are produced with fibres from what the company describes as "sustainably managed forests", and reportedly offer grease and moisture resistance without the need for a plastic coating.
The partnership then set out to create more heat-sealed, paper-based packaging that can be recycled in existing fibre recycling streams. This is where Henkel's came in with the optimization of its coatings specifically for the UPM papers.
"Barrier and heat seal coatings behave differently on different paper substrates, so finding the best combination of paper substrate, coating, and optimum application can be tricky," explains Christin Noack. "We fine-tuned our heat seal and grease barrier coatings over a number of trials and a lengthy development process. Together with UPM, we have developed innovative coatings products that enable paper to reach new and unmatched barrier performance levels."
"This solution demonstrates what we can achieve with co-created fibre-based materials. Packaging converters can select from a ready-tested and approved 'off-the-shelf' combination of paper and coatings, quickly finding the right solutions for their end-use without the need for trial and error. For brand owners, it represents yet another co-created product aimed at supporting the transition from fossil-based materials to renewable, recyclable packaging," says Mika Uusikartano, Senior Manager, Product Portfolio Management at UPM Specialty Papers.
Visitors can learn more about the packaging concept at the UPM Specialty Papers stand during Interpack 2023.
If you liked this article, you might also enjoy:
McDonald's Director of Sustainability in Europe on the company's approach to packaging sustainability
McKinsey on whether or not on-pack sustainability claims affect consumer spending
Perspectives from industry-leading experts on the EU's Packaging and Packaging Waste Directive revisions
A deep dive into the most important packaging sustainability trends and solutions