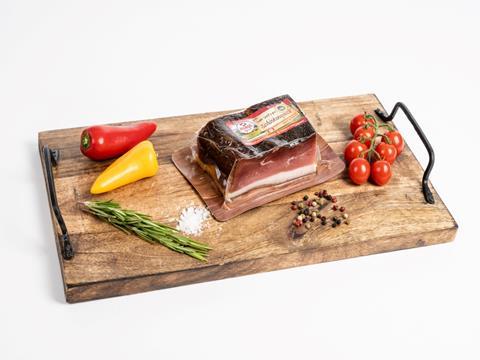 Mondi has produced a mono-material, high barrier solution to vacuum-package Handl Tyrol bacon on supermarket shelves, keeping the food fresh and contributing towards plastic circulation.
Designed to resemble a wooden chopping board, the packaging features a polypropylene (PP) film that is recyclable in existing streams for mixed polyolefins. It preserves the bacon within a 'second skin' that is securely sealed by a high-barrier top and bottom film.
The design was also shortlisted for this year's Green Packaging Star Award.
Daniel Maier, head of Procurement at Handl Tyrol, claims that the packaging "works within existing recycling guidelines for retailers across Europe and is a great example of more sustainable packaging with no compromises: it still provides the highest level of food protection which of course is always our priority."
According to Jan-Mark Wilke, business development manager of Fresh Food for Consumer Flexibles at Mondi, "33% of the world's food is lost or wasted every year – and this accounts for 7% of GHG emissions. Sustainable packaging can play a vital role in minimising food waste. It reduces the environmental impact of the food industry by preventing food from spoiling before it reaches the table.
"With our mono-material PP packaging for Handl Tyrol, we have been able to deliver another fresh food packaging solution that protects the product effectively and can be recycled into existing recycling streams for mixed polyolefins."
The news comes shortly after Mondi announced its €5 million investment in the construction of a new R&D facility at its Mondi Steinfeld plant in Germany. The new location is set to incorporate customers into the development of new projects, and serve as a partner to its recycling and food safety laboratories in Austria.
The company has also launched Hug&Hold, a shrink wrap alternative that is supposedly compatible with existing paper waste streams throughout Europe.