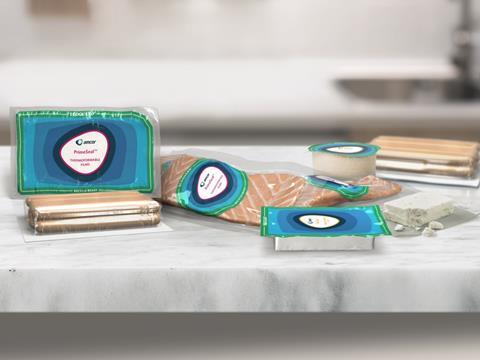 Amcor has unveiled its recyclable PrimeSeal and DairySeal Recycle-Ready Thermoforming Films with memory retention technology for meat, fish, and dairy products – which it says can lower carbon footprints by 80% in comparison with existing PA and PE films.
The transparent polyethylene films are made with low EVOH content and are certified as recyclable within PE streams by Cyclos-HTP. They are also heat resistant at temperatures of up to 90°C and are said to result in a tight, wrinkle-free pack when applied to a product.
Available thicknesses range between 85 and 200 microns with custom-engineered forming; the films are also puncture and abrasion resistant in a bid to ensure the products they package – meat and fish, both fresh and processed, as well as hard cheese – are sufficiently protected.
"Meat, fish and dairy producers today are looking for better choices when it comes to more sustainable packaging," said Rosalia Rosalinova, senior marketing manager at Amcor. "As our customers look at ways of reducing their own carbon footprint, we are constantly evolving our product portfolio to support them. Our new thermoforming films offer both businesses and consumers a better choice when it comes to recycle-ready packaging."
Similar to Amcor's newest innovation is Mondi's mono-material, high-barrier solution to vacuum package Handl Tyrol bacon, with the polypropylene film said to be recyclable in existing mixed polyolefin streams.
MULTIVAC is also pursuing sustainability in thermoforming processes with its SFP Light steam flushing system – aiming to save the energy used in cooling systems and extend the shelf life of perishable products by enabling the immediate vacuum packing of hot food. Additionally, its R3 thermoforming machine is compatible with recyclable packaging films made of mono-materials.