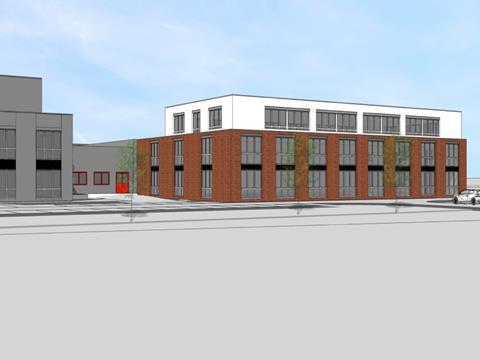 Mondi is currently investing around €5 million in the construction of a new R&D facility at its Mondi Steinfeld plant in Germany, complete with a customer experience centre to encourage consumers' participation in unfolding projects.
A dedicated floor is set to allow professionals to meet and collaborate with customers; Mondi hopes to utilise this feature to develop ideas into scaled solutions on-site with customer input.
The completed facility will feature pilot lines for both plastic- and paper-based solutions. Amongst other functions, it is said to be capable of coating – both extrusion and aqueous – as well as siliconisation, filling lines, and various types of printing. An analytical laboratory is also being built.
"This R&D centre demonstrates our hands-on approach to developing sustainable packaging solutions at Mondi," says Elisabeth Schwaiger, head of R&D and IP Flexible Packaging at Mondi. "We look forward to working with our customers, combining their knowledge with ours to meet their sustainable packaging goals.
"The investment helps to contribute to our own Mondi Action Plan 2030 sustainability goals, specifically our target to make 100% of our products reusable, recyclable or compostable by 2025."
Set to open at the end of next year, Mondi is optimistic that the new facility will assist in its other R&D centres, such as its newly-opened recycling and food safety laboratories in Frantschach, Austria. According to the company, these facilities will examine the recyclability of paper packaging with non-paper components alongside collecting data about the environmental impact of existing products.
Mondi announced its new shrink wrap alternative, the paper-based Hug&Hold, earlier this month. Back in August, it collaborated with Dow to produce recycled secondary packaging for Essity's sanitary towel line.