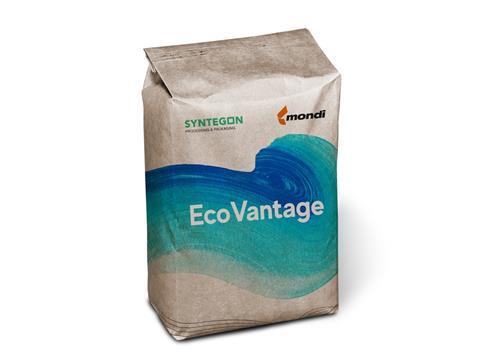 Mondi and Syntegon have revealed a recyclable paper packaging solution – produced from recycled fibres – for dry foods like pasta, sugar, and flour.
Making use of Mondi's ISEGA-approved EcoVantage kraft paper, the solution is made from recycled and responsibly sourced fresh fibres. It has previously been utilised in paper shopping bags, but its suitability for direct food contact means that its applications have been expanded to dry food applications.
EcoVantage rollstock is supplied to Syntegon, with whom spot coating is applied to create dust-tight, heat-sealable packaging. As such, the pack claims to eliminate contamination throughout the product's life cycle.
Reportedly, Syntegon's technology applies only the minimum amount of sealing agent needed – apparently supplying the necessary protection for powdered food goods and ensuring that the packaging is recyclable in existing paper streams, as has apparently been proven by Mondi's Recycling Lab.
The solution aims to meet growing consumer demand for paper-based packaging as well as preventing waste and keeping materials in the loop in line with Mondi Group's MAP2030 targets.
"Thanks to the close partnership with Syntegon and our extensive technical expertise and knowledge of paper, we can support our customers in making more sustainable choices," says Elisabeth Schwaiger, head of R&D and Intellectual Property Flexible Packaging at Mondi. "With high recycling rates of paper and the use of wood as a renewable material, we are delivering a packaging innovation that embraces resource efficiency, waste reduction and recyclability."
Torsten Sauer, director of Sustainability at Syntegon, adds: "It is our goal to create sustainable packaging solutions with the minimum environmental impact possible. With paper packaging that is both recyclable and containing recycled material we are making a big step towards closing the circularity loop for primary food packaging."
Amcor has recently accommodated for instant coffee, drink powders, spices, and other dry culinary and beverage applications with its AmFiber Performance Paper packaging range. It apparently offers 'excellent' performance on packaging machines alongside high oxygen and moisture barrier properties.
Mondi also worked with FRESH!PACKING to produce a reusable kraft paper cooler bag said to keep chilled and frozen goods up to 2.5 times cooler between a point of purchase and a consumer's home.
If you liked this article, you might also enjoy:
McDonald's Director of Sustainability in Europe on the company's approach to packaging sustainability
McKinsey on whether or not on-pack sustainability claims affect consumer spending
Perspectives from industry-leading experts on the EU's Packaging and Packaging Waste Directive revisions
A deep dive into the most important packaging sustainability trends and solutions