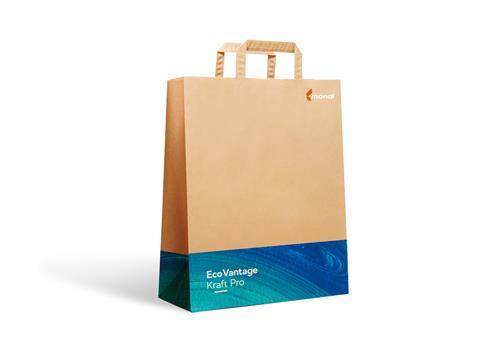 Mondi has revealed that its entire kraft paper packaging portfolio has been certified as home or industrially compostable – exceeding its own goal to ensure the compostability of all its packaging and paper products by 2025.
Made from renewable and certified sources, Mondi's kraft papers are designed to help customers achieve their own sustainability targets through their application to industrial packaging, supermarket food packaging, and shopping bags for retailers.
For instance, its Advantage MF EcoComp compostable kraft paper is intended for household and agricultural use and applied to paper bags for wet organic household waste. Meanwhile, its EcoVantage kraft paper features both fresh and recycled fibres for food-compliant shopping packaging.
The certification falls in line with the Mondi Action Plan 2030, or MAP2030, in which 100% of Mondi's packaging and paper products will become reusable, recyclable, or compostable by 2025. The company clarifies that its focus remains on keeping fibres in the loop by ensuring recyclability, but believes that composting can be useful in particular contexts, such as its use in products set to enter the biowaste stream.
"Certifications like these illustrate our ongoing commitment to provide our customers with the most suitable and sustainable packaging materials and solutions," says Silvia Hanzelova, sales director Specialty Kraft Paper at Mondi. "They give all our industrial, commercial and manufacturing customers the confidence that our papers are compostable and reassure them that, with us, they are working towards a more sustainable future. A future that continues to provide strong, effective packaging tailored to their individual needs."
We recently spoke to Elisabeth Schwaiger, head of Research and Development and IP Flexible Packaging at Mondi, about MAP2030 and its broader view on what sustainability means to the company.
Additionally, UPM Specialty Papers has unveiled two certified industrially and home compostable home label face papers; and Craste is a Sustainability Awards 2023 finalist under the pre-commercialized Renewables category for its '100% tree-free' food-grade, compostable packaging made from millet straw.
If you liked this article, you might also enjoy:
The L'Oréal approach to packaging sustainability
What steps is Apple taking to make its packaging more sustainable?
How did Brazil achieve its 100% aluminium can recycling rate – and can it be replicated in the EU?
Experts have their say on the EU's Packaging and Packaging Waste Directive revisions
Also, if you're interested in packaging sustainability, you will want to attend our Sustainable Packaging Summit in Amsterdam on 14-15 November. The Summit brings together leaders and pioneers from across the industry to align strategically, learn, network, and create a critical mass to accelerate change. You can learn more by clicking here, and you can buy a ticket to attend here.