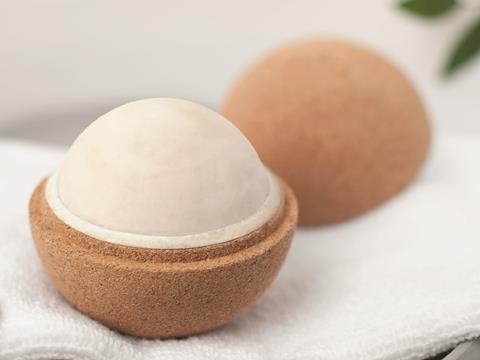 A refillable deodorant cartridge made of cork, designed by the owner of start-up Let's Rethink This, has been supported in its development by Lancaster University in a bid to bring recyclable and renewable options to market.
The Nada deodorant pack, designed by Laura Meehan from Let's Rethink This, consists of a spherical dome case around the refillable deodorant core – having won a design award through the WORTH Partnership Project and secured funding to support its development.
As well as aiming to improve on metal and plastic packaging alternatives currently available on the market, Meehan states that the pack was inspired by her own experience with non-recyclable deodorant products following her treatment for breast cancer.
"I was trying to avoid exposure to certain chemicals so I started to use more natural products," she said. "But while I was scrutinising what was available in the market I uncovered a lot of greenwashing with claims certain packaging is recyclable when in reality it isn't.
"The cork tree is the only tree which can regenerate after each harvest of bark. It's a remarkable thing. So it seems the perfect basis for a product that biodegrades with less impact on the environment."
Lancaster University's Low Carbon Eco-Innovatory programme (LCEI) – which collaborates with small businesses to develop low-carbon innovations – then funded Meehan's access to its chemistry and engineering facilities and researchers to formulate a deodorant core for the dome case. Let's Rethink This is one of twenty-eight companies working with LCEI to test their products, analyse their carbon footprints, review business processes, and more.
Now the Nada prototype is in search of investment, with discussions being held with manufacturers and fragrance options being explored.
"We should be at the point of civilisation when the presumption is that the products we use are not going to harm us or anyone else," Meehan continued. "We need to rethink how we make our products and what we make them with, and stop putting the responsibility on consumers all the time."
Carolyn Hayes, LCEI Project Manager at Lancaster University, added: "One of the biggest challenges small businesses and charities have is the lack of resources, such as personnel, knowledge and time, to devote to starting their net zero journey.
"The LCEI programme offered access to the skills and expertise of undergraduates, postgraduates, and world-renowned academics, leveraging our plethora of world-class facilities, to identify a bespoke course of action. It helped businesses to rethink their carbon footprint and energy consumption, and encouraged them to be prepared for situations like our current energy crisis."
Back in February, Dove announced its first refillable and reusable deodorant packaging, which sought to provide consumers with an easily accessible refill solution and decrease the generation of plastic waste.
Morrama has also unveiled Maya, a range of refillable packaging for makeup and personal care packaging developed in collaboration with PPK, in another response to an excess of discarded single-use solutions.