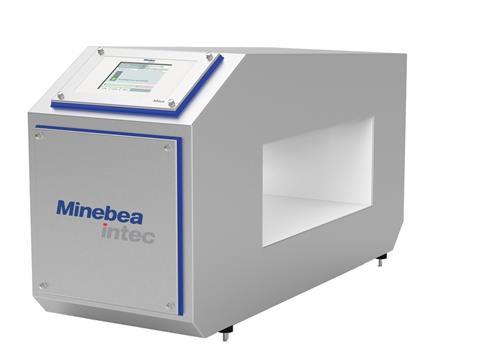 Minebea Intec will showcase its Mitus metal detector and a newly developed user interface for checkweighers amongst other developments in weighing and inspection at interpack 2023.
Mitus will utilise MiWave technology in a bid to provide precise detection for foreign objects; this will involve modulating the transition signal for various frequencies, then separating and individually evaluating them using an intelligent algorithm. As such, the product can be inspected for various imperfections at once, which is set to increase information content and facilitate high search sensitivities, even in large product effects.
Additionally, it is thought to maximise product safety and output, as temperature changes, thawing process, and other fluctuations are not thought to be as impactful to the machinery. Mitus is available as a rectangular, round, or compact detection coil, and in various sizes in a bid to enable easy integration into existing product lines.
Meanwhile, new user interface for checkweighers will be on display. This will feature intuitive operation with the aim of ensuring user-friendliness, and the interface is expected to allow customers to configure, control, test, and audit their checkweighers easily.
Programming new products, adjusting line parameters, and defining a batch record are all thought to be simplified and made more efficient by the interface, with the operator terminal displaying such statistics as Overall Equipment Efficiency based on current weighing results. It also offers various log functions for audits, and is reportedly MID-certified with Minebea Intec weighing technology.
The new Dypipe X-ray inspection system apparently offers a high level of safety for viscous and liquid products, and will be operating live at interpack. Designed to detect foreign objects made of metal, stone, plastic, bone, and glass while separating defective or contaminated products, it is fitted with a test specimen feed system; this allows for the verification of test specimens during live operation, a solution that is expected to reduce downtime.
Its easy-to-open separator is also anticipated to meet hygiene requirements for meat applications, with Minebea Intec asserting that it 'guarantees outstanding results' and ensures the quality and safety of meat.
New highlights will also be displayed for the Essentus checkweigher, alongside the Midrics 3 touch weight indicator for platform scales.
Also presenting their technological developments at interpack are ROTZINGER Group with its new feed placer, filling and capping machine, bar production line, and upgraded blister machine; Shemesh Automation with two of its A-Z turnkey packaging line solutions; and intelligent drive and automation solutions from Baumüller, including energy monitoring and machine simulation software and a new generation of servo controllers.
If you liked this article, you might also enjoy:
McDonald's Director of Sustainability in Europe on the company's approach to packaging sustainability
McKinsey on whether or not on-pack sustainability claims affect consumer spending
Perspectives from industry-leading experts on the EU's Packaging and Packaging Waste Directive revisions
A deep dive into the most important packaging sustainability trends and solutions