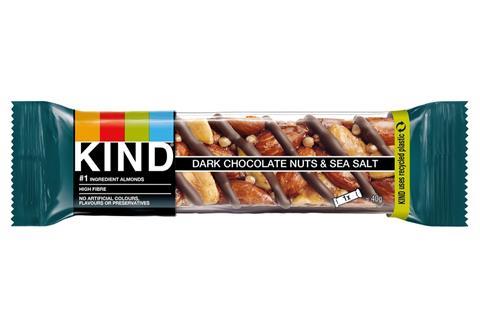 Mars Incorporated is utilising materials sourced from advanced recycling to package its KIND snack bars, aiming to reduce the amount of virgin plastics in its packaging portfolio.
In a 'closed loop' collaboration with SABIC, Landbell, Plastic Energy, Taghleef, and SIT, the new wrapper is made from mono-material propylene, which is thought to make it fully recyclable and negate the need for multi-material layers or laminated plastics.
It is hoped that the redesign, with its material said to have been sourced from the advanced recycling of mixed plastics, will be a circular solution compatible with drop-off recycling in the UK and curbside recycling in Ireland.
Mars anticipates that the new packaging will contribute to the company's goals of reducing its use of virgin plastic by 25%, ensuring that all plastic packaging contains 30% recycled content, and redesigning packaging components across its portfolio to ensure its compatibility with current or future recycling infrastructure.
"At Mars, we want to contribute to a circular economy where packaging material never becomes waste, but is recycled, reused or composted," said Barry Parkin, chief procurement and sustainability officer. "For this to happen, we need new solutions and infrastructure to change the recycling landscape and to complement mechanical recycling.
"Today marks another important step in accelerating our sustainable packaging journey and in our collaboration with partners like SABIC that are enabling new opportunities to provide consumers with packaging designed for circularity." 
Lada Kurelec, general manager PP, PET, PS, PVC, PU & Elastomers Business for Petrochemicals at SABIC, added: "We are very excited about this pioneering closed-loop project that demonstrates the feasibility and speed of implementing circular plastic innovations when leading actors from across the entire value chain are closely collaborating. Used flexible packaging has a high feedstock value for new materials, and our TRUCIRCLE polymers and services form an instrumental element in tapping this vast potential." 
"At KIND, we are committed to making our packaging as sustainable as it can be," concluded Peter Morris, general manager at KIND Snacks UK. "This announcement marks the latest milestone towards achieving this vision, and we look forward to driving further positive and long-lasting changes to our packaging in the future."
The development follows the repackaging of Nestlé's Quality Street twist-wrapped sweets, with a new paper design aiming to replace 2.5 billion individual foil and cellulose wrappers across the world. It was also announced that its KitKat wrappers would only contain 80% plastic going forward.
Meanwhile, Fazer and Metsä Board's new advent calendar, made of dispersion-coated paperboard, is hoped to reduce 1200kg of plastic every year in comparison to its previous PE-coated design.
Mars Wrigley has also rebranded the packaging for its Celebrations chocolates to encourage consumers to purchase the product all year round, not only during the Christmas period.