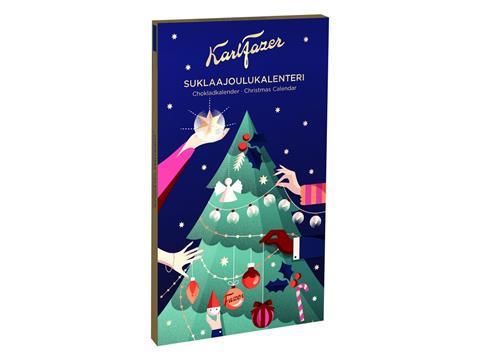 Fazer has launched an advent calendar made from Metsä Board's dispersion-coated paperboard – a recyclable and lightweight solution expected to reduce 1200kg of plastic per year in comparison to its previous PE-coated design.
It is said that the wood fibre used in the calendar can be fully recycled, and that the 'resource-efficient' design results in a carbon footprint that is one-quarter lower than the previous design. As such, the calendar is expected to reduce waste and contribute towards a circular economy.
Piia Soininen-Tengvall, packaging development director at Fazer, says: "Climate change mitigation and the circular economy are important themes for Fazer. The material change for the Christmas calendar is part of Fazer's responsible packaging programme which consists of three elements: reducing the amount of packaging materials used, developing completely new types of more ecological packaging solutions, and improving the recyclability of packaging.
"Chocolate calendars need a layer to protect the chocolate, which is usually plastic. This year we are replacing the PE-coated material with recyclable Metsä Board paperboard."
"Our fresh fibre board is a safe choice for Christmas calendars, especially when the chocolate is in direct contact with the board," adds Olli Haaranoja, sales director at Metsä Board. "In addition, our dispersion-coated board has neutral sensory properties. In practice, this means that the chocolate in the calendars retains its excellent taste until the consumer receives it as intended."
Last Christmas, Cailler collaborated with the design agency Seymourpowell to redesign the packaging for its pralines collection. While the transition was reportedly intended to appeal to a younger demographic, the transparent chocolate tray was said to have become recyclable, while Cailler claimed that the boxes were already compatible with existing waste streams.
Mars Wrigley brand Celebrations has also undergone a more recent packaging rebrand to encourage customers to purchase the chocolates throughout the year, not only at Christmas. Meanwhile, Nestlé's Quality Street line is set to transition into FSC-certified paper packaging for its twist-wrapped sweets, which is expected to replace 2.5 billion individual foil and cellulose wrappers on an international scale.