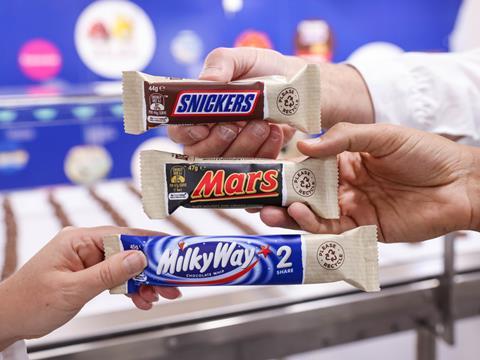 Mars Wrigley has announced plans to transition a large part of its chocolate bar portfolio in Australia to a new paper-based packaging format that can be recycled via traditional kerbside recycling.
The shift to Amcor's FSC-certified paper-based packaging will be seen on the company's Mars Bar, Snickers and Milky Way products as of April 2023.
The company says that its new packaging is the result of extensive R&D trials and locally driven innovation from Mars Wrigley's manufacturing site in Ballarat. The packaging is reportedly widely recyclable through comingled recycling bins and paper/cardboard recycling bins across Australia, enabling consumers to recycle the packaging via their kerbside recycling bin.
The pack is not, however, completely plastic-free. Regarding its composition, a representative from Mars Wrigley told PKN: "Our paper-based packaging is made up of 86 percent paper, a thin plastic barrier to ensure the quality and freshness of the product is maintained, seals and inks for labelling. While the packaging features a very thin plastic barrier, it remains able to be recycled via kerbside recycling as validated by APCO's PREP tool."
Andrew Leakey, general manager of Mars Wrigley Australia, says: "The transition to paper-based packaging for our locally made chocolate bars marks a significant milestone in our sustainability journey."
"Mars' ongoing investment in local R&D has allowed us to be agile and create solutions that have a positive impact on our environment, meet our stringent quality and food safety standards but are also convenient for our consumers to recycle via kerbside recycling. This was crucially important for us as we wanted to ensure consumers had easy access to recycle our new paper-based packaging."
"As one of the largest snacks and treats manufacturers in Australia, Mars has a responsibility to reduce our environmental footprint right across our business, including packaging."