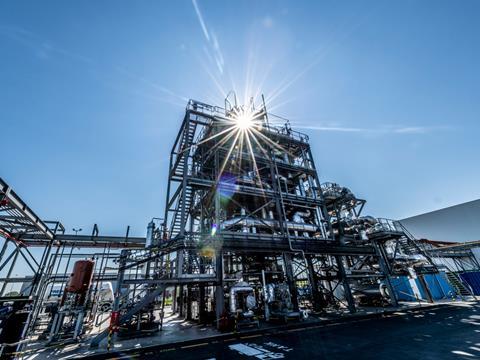 Borealis has acquired a majority stake in Renasci, a provider of chemical recycling solutions and the creator of the Smart Chain Processing (SCP) concept, with the aim of increasing its access to chemically recycled feedstock.
Borealis announced the acquisition of a 10% stake in Renasci in July 2021; today it announces an increase in its investment to acquire a majority stake of 50.01%, signalling its confidence in the potential of Renasci's patented SCP concept.
The company views this latest investment as an important part of its strategy to reach its circularity-related goals, which target a six-fold increase in the volume of what it describes as "circular products and solutions" to 600 kilotonnes by 2025, rising to 1.8 million tonnes by 2030.
It is hoped that this acquisition will increase Borealis' long-term access to chemically recycled feedstock from Renasci's Ostend facility and enable its use of key technologies pioneered by Renasci.
SCP enables the processing of multiple waste streams using different recycling technologies under one roof, reportedly resulting in "exceptionally high valorisation of waste". Through leveraging its market access, expertise, and technological capabilities, Borealis aims to accelerate the implementation of the SCP concept and explore opportunities for replicating the model in additional locations.
Another key driver of the acquisition was Borealis' desire to strengthen its Borcycle C range of product offerings by providing future supply security of chemically recycled feedstock.
Borcycle C is a portfolio of chemical recycling solutions with ISCC (International Sustainability & Carbon Certification) PLUS-certified content based on the mass balance approach.
The company says that the portfolio is suitable for all applications, including those that are subject to stringent quality and safety regulations such as healthcare and food packaging, which cannot always be met using mechanically recycled materials.
Gert Vanderseypen, general manager at Renasci, comments: "Following 18 months of successful cooperation, we're pleased to receive this increased investment from Borealis signalling its ongoing confidence in the Smart Chain Processing concept to drive circularity.
"Borealis' strategic market position and commitment to the circular economy mean it is ideally placed to develop and implement the SCP concept, as well as to leverage our combined technological capabilities to unlock further circular progress."