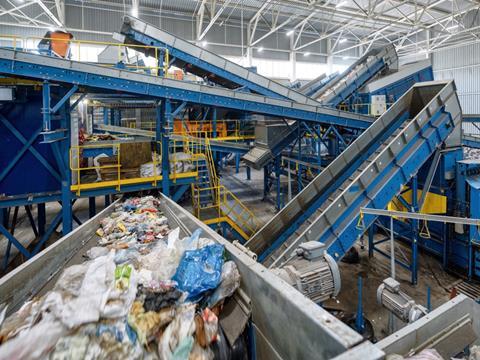 Nextek Ltd's COtooCLEAN project, which aims to produce food-grade recyclate from polyolefin film waste using supercritical CO2 and green co-solvents for waterless decontamination, has secured funding from UK Research and Innovation (UKRI).
The UKRI's Smart Sustainable Plastic Packaging challenge, which supports the UK Plastics Pact, rewards innovative projects focusing on the reuse and recycling of plastic packaging.
According to Nextek, polyolefin (LDPE, LLDPE, HDPE, and PP) films are commonly used in packaging for both food and non-food goods and play an important role in extending shelf life as part of the former application. However, the group adds that food safe post-consumer polyolefin films are missing from the recycling stream as there has been no effective decontamination technology developed to turn them back into food-grade films.
COtooCLEAN is a multi-participant project that aims to fill this gap with a commercial process that it claims can be integrated into mechanical recycling operations.
COtooCLEAN is a reportedly waterless cleaning process for polyolefin films, based on low-pressure supercritical CO2 (scCO2) combined with green co-solvents. The group says that the process can, in a single step, remove oils, fats, and printing inks and effectively decontaminate polyolefin films back to food contact levels under the EFSA Challenge Test conditions.
Currently, the group explains that the industrial decontamination of post-consumer polyolefin films is performed using a mixture of aqueous or organic solvent washing, drying, and thermal desorption. However, it notes that these processes can have a high cost, both in terms of the energy required and environmental impact, while failing to reach food-grade compliance.
Therefore, the group says that scCO2 is a non-toxic, non-flammable, non-corrosive solvent that can remove contaminants on films; it is also widely used in the extraction of food flavours and components, such as removing caffeine from coffee. According to Nextek, a single phase change can isolate dissolved contaminants and free the CO2 for reuse as a solvent once again, apparently meaning it does not produce aqueous waste containing impurities, contaminations, or solvents.
Nextek adds that the technology will not only facilitate film recycling and offer new PCR material sources, but will also enable reductions in waste to landfill, decrease the use of virgin resins, and save on resources, including carbon emissions and water usage.
Nextek's partners on the project include Viridor Ltd, which will be the collector and recycler of films, as well as the potential plant builder for the scaling of the technology.
Meanwhile, the University of Nottingham's School of Chemistry, led by Professor Steve Howdle, will conduct the majority of the initial optimisation research. The Biocomposites Centre (BC) will also focus on optimisation and life cycle analysis, as it apparently has extensive analytical facilities that can assist with the characterisation of materials.
Suprex, a joint venture between Phytovation Ltd and Bangor University, specialises in the development and application of supercritical CO2. Therefore, it will take a lead in equipment design and safe operation and construction, as well as assisting in large scale trials of the post-consumer films.
In terms of end uses, Unilever will support the project with testing and analysis to validate the resulting materials for consumer goods packaging applications, while Amcor will be involved with the project as part of its aim to use increasingly light-weighted and recyclable materials with more recycled content. Additionally, Allied Bakeries will evaluate the resulting recycled material with its packaging manufacturer, supply films for de-inking, and test recycled films for food-grade status.
Another project led by Nextek, NEXTLOOPP, is aiming to create food-grade packaging from recycled polypropylene (PP) and is working with partners including Unilever and INEOS Olefins and Polymers Europe, which will help to tailor food-grade rPP to the precise specifications of converts at its Scottish manufacturing base. NEXTLOOPP was the overall winner at Packaging Europe's 2021 Sustainability Awards.