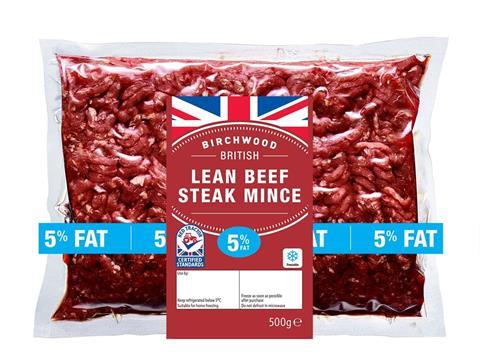 Lidl is set to vacuum-pack its beef mince range in what is said to be recyclable plastic – a move aiming to save a yearly 250 tonnes of plastic, reduce plastic use by 63%, and take up to 350 trucks off the road annually.
Further perks of the repackaging reportedly include an extended shelf life, in which the mince will stay fresh for around sixteen days rather than the standard eight. This is hoped to halve the amount of beef mince food waste generated in-store, as well as enabling consumers to store the product for longer.
The film is designed to be easily peeled and prevent the need to touch the raw meat during the unpacking process. It is also anticipated that the pack will require fewer trucks in the transportation process and take up less space in a fridge or freezer due to the pack's smaller footprint.
Back in February, Sainsbury's replaced the tray packaging of its own beef mince range with vacuum packs in a bid to cut 55% of plastic from each product and reduce its annual plastic consumption by 450 tonnes. Consumers later described this decision as 'awful' – arguing that the packaging was no longer recyclable at home and had a negative impact on the quality of the meat within.
Lidl will implement its own vacuum packaging in its stores from the beginning of next year. It is expected to contribute towards the retailer's wider goals of reducing plastic, improving recyclability, and driving circularity throughout its product range – for example, achieving a 40% reduction in plastic packaging for its own-label products by 2025.
"Plastic reduction is a huge priority for us, and this one change will reduce the amount of plastic in each pack by a whopping two thirds, culminating in the elimination of over 250 tonnes of plastic from packaging a year," explained Shyam Unarket, head of Responsible Sourcing & Ethical Trade at Lidl GB. "However, we also recognise the important role that plastic plays in our daily lives. That's why it's hugely important that our plastic reduction strategy is centred around a progressive circular programme.
"By ensuring that any new packaging is recyclable, we'll be able to help prevent plastic pollution in our environment. When the new packaging arrives in store early next year, we know that the huge benefits both from a sustainability and practical perspective, will be welcomed by our customers."
Robert Lilienfeld, founder and executive director of sustainable packaging think tank SPRING, shared his view on the 'complete failure' of the Sainsbury's redesign. According to him, the new pack means that the meat looks less appealing on the shelves – despite a potential improvement in preserving product freshness.
Packaging manufacturers have unveiled their own solutions to flexible plastic wrapping this year, including Amcor's recyclable thermoforming films with memory retention technology and Stora Enso's barrier-coated board material for vacuum skin packs.
If you liked this article, you might also enjoy:
McDonald's Director of Sustainability in Europe on the company's approach to packaging sustainability
McKinsey on whether or not on-pack sustainability claims affect consumer spending
Perspectives from industry-leading experts on the EU's Packaging and Packaging Waste Directive revisions
A deep dive into the most important packaging sustainability trends and solutions