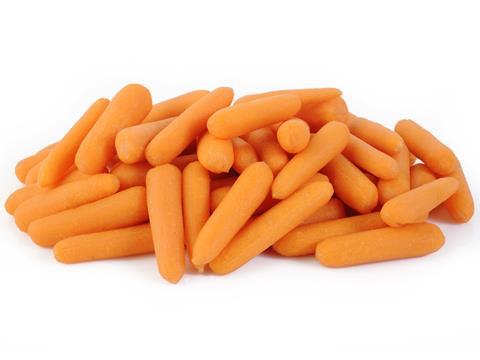 Danimer Scientific is packaging Earthbound Farm's one-pound portion of mini peeled carrots in certified home compostable retail packaging, developed in collaboration with BIOLO and Bolthouse Farms.
Nodax, Danimer's bio-based polyester, is made with oils derived from the seeds of such plants as canola. PHA-based products made with Nodax claim to degrade in the space of months under certain conditions.
Accordingly, the Earthbound Farm Organic Mini Peeled Carrots bags have been certified as home compostable by TÜV and are thus said to break down by at least 90% in twenty-six weeks – and completely biodegrade within fifty-two weeks under home compost conditions.
These bags are now available in Meijer's regional network of 240 grocery stores and supercentres across six states in the American Midwest.
The development comes after Columbia Packaging Group, the parent company of both Danimer and BIOLO, announced a partnership in 2020 to produce compostable bags, film, and rollstock for applications in the produce, agriculture, fashion and apparel, consumer goods, bakery, and food service sectors.
Stephen Croskrey, CEO of Danimer Scientific, stated: "As demand continues to rise for environmentally superior alternatives to petroleum plastics, we're excited that Meijer will offer home compostable packaging solutions that make possible the safe, efficient, low-cost and stable delivery of fresh foods, providing consumers with a more responsible way to enjoy the products they love. We're grateful for the partnership of BIOLO, Bolthouse Farms and Meijer in bringing this product to market, which we believe will lead to other foods shifting to PHA-based packaging."
"BIOLO's successful launch of this product with Danimer Scientific, Bolthouse Farms and Meijer grocery stores represents a significant step forward for the packaging of retail vegetables and fruit, which have previously been packaged in traditional petroleum-based plastic bags," adds William F. Preston, CEO of BIOLO. "We're proud to be leading the charge toward a more sustainable future for the organic produce packaging market, and are grateful to Bolthouse, Meijer and Danimer, who partnered with us to make this possible.
"But this is only the beginning. Through our strategic partnerships and in accordance with our company mission, we intend to transform the packaging industry by providing eco-friendly, high value-add and performance-based products to food, fashion and apparel, and other consumer packaged goods businesses."
In other developments, Danimer has joined forces with TotalEnergies Corbion to produce a certified home compostable coffee pod biopolymer in line with the EU's legislation on biodegradability; and with Chevron Phillips Chemical (CPChem) to create biodegradable films and moulded parts using Rinnovo polymers produced in a loop slurry reactor process.
On the other hand, Abel & Cole previously cited UCL's Big Compost Experiment in its decision to remove compostable plastics from its customizable Fruit & Veg Boxes range, believing them to contribute to plastic waste.
If you liked this article, you might also enjoy:
The L'Oréal approach to packaging sustainability
What steps is Apple taking to make its packaging more sustainable?
How did Brazil achieve its 100% aluminium can recycling rate – and can it be replicated in the EU?
Experts have their say on the EU's Packaging and Packaging Waste Directive revisions
Also, if you're interested in packaging sustainability, you will want to attend our Sustainable Packaging Summit in Amsterdam on 14-15 November. The Summit brings together leaders and pioneers from across the industry to align strategically, learn, network, and create a critical mass to accelerate change. You can learn more by clicking here, and you can buy a ticket to attend here.