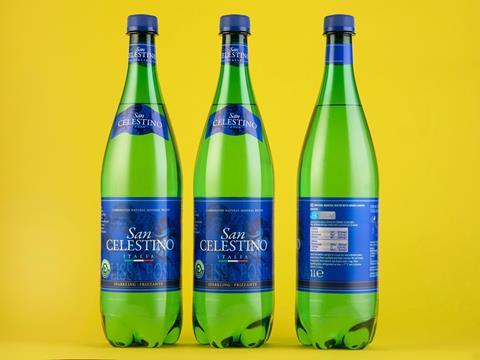 Lidl is implementing Prevented Ocean Plastic, or recovered 'ocean-bound' plastic waste, into its sparkling water packaging in an effort to keep almost 4 million plastic water bottles out of the oceans every year.
Lidl's one-litre bottles of San Celestino Italian Sparkling Mineral Water are set to contain a minimum of 30% Prevented Ocean Plastic. It is claimed that 12 million of these bottles are sold every year, which would mean that an annual total of nearly 100 tonnes of plastic could be saved from entering the ocean.
Prevented Ocean Plastic packaging is supplied and developed with Bantam Materials. It sources discarded water bottles within 50km or 30 miles of an ocean coastline or major waterway that feeds into the ocean in Southeast Asia, then sorts and processes the waste for use in packaging. This process is apparently fully traceable and is said to offer a documented chain of accountability.
Packaging that utilises Prevented Ocean Plastic is said to contain a minimum of 30% 'ocean-bound' plastic, with consumers reportedly able to identify it with a blue and white logo printed onto a pack.
"Ocean plastic pollution is a pressing environmental concern, it is expected that by 2050 there could be more plastic in the ocean than fish," explained Shyam Unarket, head of Responsible Sourcing and Ethical Trade at Lidl GB. "As pioneers of integrating ocean bound plastic into our packaging in 2020, we have been consistently building and improving on our efforts since, and are proud to now extend Prevented Ocean Plastic into water bottles. Through this latest product development, we hope to inspire wider efforts across the industry."
According to Lidl, it became the first UK supermarket to utilise Prevented Ocean Plastic in 2020, from which point it claims to have prevented the equivalent of over 15 million plastic water bottles from entering the ocean through its incorporation into its own-brand fresh fruit, sausage, breaded poultry, and fresh fish packaging.
In a similar development, Tesco and Keep Sea Blue aim to keep 500 tonnes of discarded plastic out of the ocean by selling salmon, haddock, cod, and sea bass products in packaging containing at least 30% recovered coastal plastic.
Prevented Ocean Plastic is also collaborating with the University of Georgia to research the process of inland waste entering oceans and create a new tool for stakeholders and community leaders seeking to combat plastic pollution in their local environment.
However, a recent report by RECOUP has suggested that 'inconsistency and ambiguity in language and operations' could impact the removal of plastic waste from marine environments and disrupt the packaging industry's access to recycled materials.
If you liked this article, you might also enjoy:
McDonald's Director of Sustainability in Europe on the company's approach to packaging sustainability
McKinsey on whether or not on-pack sustainability claims affect consumer spending
Perspectives from industry-leading experts on the EU's Packaging and Packaging Waste Directive revisions
A deep dive into the most important packaging sustainability trends and solutions