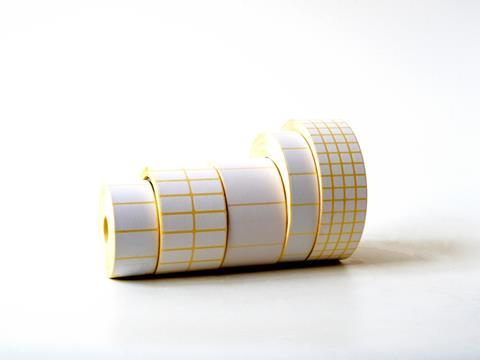 Ahlstrom is extending its Acti-V range of high-performance release liners with new products containing recycled and unbleached fibre content, intended for Pressure Sensitive Adhesive (PSA) laminates and labels.
In general, release papers are said to facilitate the efficient printing, cutting, and application of PSA labels – thus reducing product waste, increasing product safely, and helping goods move reliably and efficiently through the distribution process. Those created with Acti-V technology reportedly enable potential reductions in energy, catalyst, and silicone consumption through a 'highly efficient' silicone coating and converting process.
Acti-V RF Yellow is a supercalendered release paper said to contain at least 15% post-consumer recycled fibre. It is designed to resemble the typical light-yellow colour of paper liners that carry most PSA paper labels in Europe.
Meanwhile, Acti-V RF Natural is a light creamy colour that naturally results from the incorporation of post-consumer recycled fibre and both bleached and unbleached cellulose fibres. According to Ahlstrom, it does not use any dye and is based on components estimated to allow a carbon footprint reduction of at least 15% compared to the Acti-V Yellow liner.
By replacing a portion of virgin fibres with recyclate, Ahlstrom hopes to support the industry in adopting renewable, bio-based materials and provide sustainability-minded options for laminators, label printers, and end-users.
Last year, UPM Raflatac sought to process PET liner waste collected through its recycling service into a raw material, which was then used by Finnfoam to produce insulation.
Fedrigoni Self Adhesives has also developed its Re-Play product line, which aims to upcycle the discarded glassine backing of other self-adhesive products into a new premium labelling solution.
If you liked this article, you might also enjoy:
The Lidl approach to packaging sustainability
How did Brazil achieve its 100% aluminium can recycling rate – and can it be replicated in the EU?
Experts have their say on the EU's Packaging and Packaging Waste Directive revisions
A deep dive into the most important packaging sustainability trends and solutions