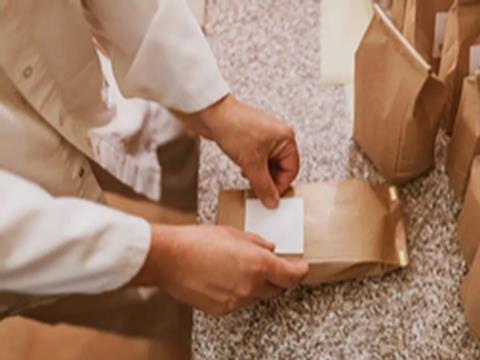 H.B. Fuller will display a range of pressure-sensitive adhesives at Labelexpo Europe 2023 that look towards high-quality aesthetics, clean label removal, and a reduction in carbon emissions.
Swifttak PS 8405 is the company's water-based pressure-sensitive adhesive (PSA) with non-water whitening properties. It is designed to provide a no-label look to premium PET labels, apparently combining functionality and 'no look' transparency for aesthetically pleasing packaging designs.
Optimised peel, tack, and durability properties, clarity, and performance are among the reported benefits of this adhesive; it also claims to preserve the appearance of a label in challenging temperatures and environments.
Meanwhile, H.B. Fuller's Gel-Tac products are based on water-based acrylic, pressure-sensitive microsphere technology. Reportedly, it allows labels to be removed without leaving visible residue, markings, or damage – as such, it enables the easy repositioning or replacement of masking tapes, liner-less labels, tape constructions, and more.
The Earthic portfolio is an additional sustainable product brand recently launched by the company. Swiftmelt Earthic 9010E claims to be a near-zero-CO2 hot melt PSA and seeks to lower customers' overall CO2 impact while also meeting the requirements of packaging applications.
H.B. Fuller states that the adhesive is based on 80% fossil-free adhesive, offers 'excellent' performance on various substrates, and provides high-quality adhesion at low temperatures. While final calculations are still being validated, the company welcomes further discussion with potential customers.
It also emphasises the customisation capabilities of all the products for brand differentiation.
Ahlstrom recently announced the expansion of its Acti-V high-performance release liner range with new products for PSA laminates and labels; the new products contain recycled and unbleached fibre content.
In other news, Windmill Tapes and Labels has installed AB Graphic International's Digicon 3 print finishing series into its production line, with specific customisation made for specialised peel-and-reveal work to take advantage of the expanding vape market.
If you liked this article, you might also enjoy:
The Lidl approach to packaging sustainability
How did Brazil achieve its 100% aluminium can recycling rate – and can it be replicated in the EU?
Experts have their say on the EU's Packaging and Packaging Waste Directive revisions
A deep dive into the most important packaging sustainability trends and solutions