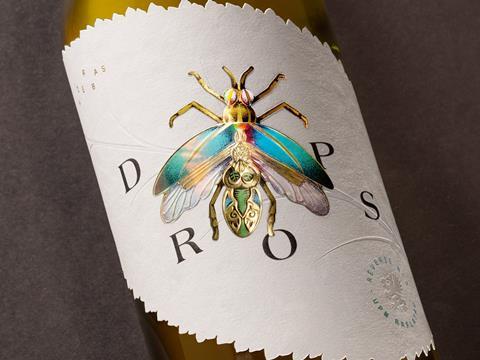 UPM Raflatac has announced the launch of its new collection of wine, spirits and beverage label materials, Rêverie 3, that apparently uses recycled fibres. The company says Rêverie 3 offers packaging designers labels made with materials from FSC® certified (FSC C012530) forests, recycled materials and other controlled sources.
The company says five of its responsibly sourced label materials were given to five Spanish design agencies with the brief to create a new collection.
"The label designs in the Rêverie 3 collection were created for high end wine, spirits, sparkling cider, craft beer and tomato juice drinks, with excellent execution of the artworks with different printing techniques managed by Gráficas Varias," Joss Ramel, packaging solutions manager for Spain and Portugal at UPM Raflatac states.
The first UPM Raflatac label material chosen was Biarritz Wsa PCR-FSC with 20% recycled fibres created for use with wine and spirits labelling applications, using the natural pigmentation of the material on the label. Series Nemo used this material to create the sparkling cider bottle label design.
Second was Drops Wsa PCR-FSC which reportedly has 100% recycled fibres and an uneven textured surface, which Estudio Maba used to create the spirits bottle label design. Fenix Wsa PCR-FSC has 40% recycled fibres and was used by Puigdemont Roca to create the tomato juice bottle label design.
UPM Raflatac says Calcco used Hipster Wsa PCR-FSC which has 100% recycled fibres and an uneven, felt marked surface to create the wine bottle label design. Lastly, Vintage Wsa PCR-FSC with 30% recycled fibres for wine, spirits and beverage labelling applications was used by Bulldog Studio to create the craft beer bottle label design.
Earlier this year UPM Raflatac unveiled new paper label materials said to enable PET and HDPE bottle recycling, and in the same month we spoke to the firm's director of sustainability, Robert Taylor, about its ambition to move beyond fossil fuels.
If you liked this article, you might also enjoy:
McDonald's Director of Sustainability in Europe on the company's approach to packaging sustainability
McKinsey on whether or not on-pack sustainability claims affect consumer spending
Perspectives from industry-leading experts on the EU's Packaging and Packaging Waste Directive revisions
A deep dive into the most important packaging sustainability trends and solutions