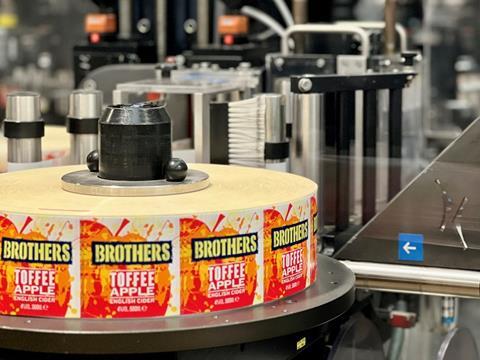 Brothers Drinks Co. has partnered with MCC Label and Avery Dennison to utilise the latter's AD Circular scheme and reprocess difficult-to-recycle PET label liners into packaging for use in the home as well as the personal care industry.
Following two years of research and development, the process now allows PET backing from Brothers Cider labels to be repurposed into new packaging applications. Brothers Drinks Co. claims to be the first producer of cider in the UK to be doing so on a mass scale, and AD Circular has apparently been implemented across Brothers Drinks Co.'s multiple sites.
AD Circular was announced by Avery Dennison in 2021. An online web application enables companies to schedule a pickup of used label liners, which Avery Dennison delivers to its recycling partners; regularly updated analytics and certificates also inform customers of the amount of material they have successfully recycled, the resultant savings in CO2 emissions, and more.
According to Brothers Drinks Co., the AD Circular scheme enabled Brothers Cider to save 56 tons of CO2 and reduce its overall carbon footprint in 2022, with the effort reportedly led by Brothers Drinks Co.'s procurement team.
"As a company, we are really excited to be at the forefront of such a ground-breaking program," says James Showering, procurement manager at Brothers Drinks Co. "Procurement has been incredibly important for every company in this process, navigating supply chain disruptions and mitigating risk.
"The development of Avery Dennison's AD Circular UK scheme is a great example of this. It demonstrates how we are influencing the wider economy to be greener and more sustainable. We wanted to establish a clear route for recycling – one in which we know where the label backing goes – and this collaboration, brought about by MCC, uses the influence of purchasing to ensure all waste from procurement is reduced and recycled. Without the drive for sustainability from us and the wider team, this scheme wouldn't have come about."
UPM Raflatac previously revealed that its PET liner waste will be processed into a raw material by Inosence Polyol, which will then be utilised by Finnfoam to produce insulation.
Fedrigoni Self Adhesives is also intending to upcycle the discarded glassine backing of other self-adhesive products into own Re-Play premium label line.