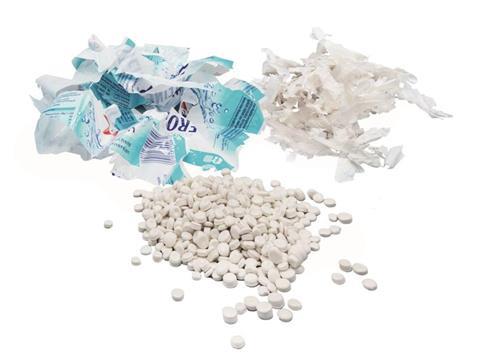 EREMA Group subsidiary KEYCYCLE has acquired the Cadel Deinking brand to integrate the companies' collaborative work in deinking printed plastic waste into its product portfolio, intending to apply the technology to post-consumer recycling streams.
Now falling under the umbrella of KEYCYCLE Deinking, the decolourisation process is said to dissolve ink from the surface of shredded film or regrind material using only water-based chemicals. The material is subsequently fed into the recycling extruder, with the recycled pellets expected to contribute back into the production of new plastics.
Cadel will continue to operate under the name Cadel Recycling Lab and develop new recycling and decontamination technologies. Meanwhile, KEYCYCLE recently presented a larger deinking line with a reported throughput of 1,200 kilograms per hour at K 2022. Such capabilities are hoped to increase pellet quality in the post-consumer recycling segment.
"We have already been exclusively responsible for the worldwide distribution of this patented technology since January 2021, including the operation of the pilot plant together with Cadel in Sant Vicente del Raspeig (Alicante)," says Michal Prochazka, managing director of KEYCYLE. "By acquiring the trademark rights, we are now taking the final step of integrating this process technology into our product portfolio. The product not only delivers top quality, it now also meets industrial standards."
Siegwerk subsidiary polycirQ was a recent finalist in the pre-commercialised Driving the Circular Economy category at the Sustainability Awards 2022 for its deinking surfactants. These are said to aid mechanical recycling processes by removing printing inks from LDPE and PP films via hot-washing and producing clean recyclate.
Siegwerk's UV-based deinking primers for labels and sleeves are also said to provide a safe and economic deinking solution for energy-cured ink systems, which were previously considered incompatible with deinking procedures.
The company and its partners in the Design4Circularity initiative – Clariant, Borealis, and Beiersdorf – also developed a concept for a colourless personal care bottle with 100% post-consumer recyclate content. The design comes with a printed yet deinkable full-body shrink sleeve to allow for brand differentiation.