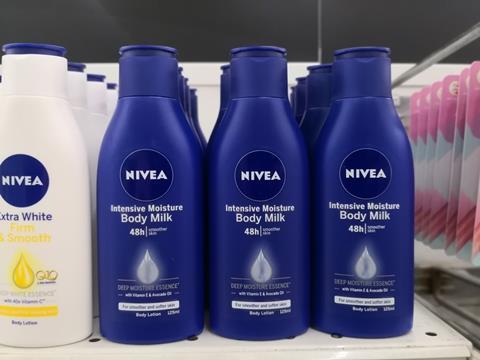 The Design4Circularity initiative, which includes Clariant, Siegwerk, Borealis, and Beiersdorf, has developed a concept for a colourless personal care bottle with 100% post-consumer recyclate (PCR) content, which features a printed deinkable full-body shrink sleeve for design differentiation.
The collaboration between personal care industry players, Design4Circulatiy, is apparently aiming to develop circular packaging solutions by accounting for each step of the development process. The initiative says it is looking to create solutions that support plastic waste reduction, as well as less use of virgin plastic material and lower climate impact.
Richard Haldimann, chief technology and sustainability officer at Clariant, explains: "This collaboration was possible because all participants are dedicated to circular economy, with company-wide programs and holistic understanding of the systems involved.
"Achieving circularity needs a complete shift in designing product packaging and packaging raw materials, considering sortability, recycling and packaging end-of-life."
Stefan Haep, technology head brand owner collaboration at Siegwerk, adds: "Our initiative is a frontrunner in uniquely assessing circularity in every design parameter, from additives to bottle material to inks, mapping industry competencies, potential gaps, and feasibility proof points to open up viable, ultimately circular solutions."
The initiative has developed a colourless polyolefin bottle with 100% PCR content. Borealis says that it supplied high-quality PCR based on its proprietary Borcycle M, an advanced mechanical recycling technology that allegedly helps packaging material to retain its value through multiple lifecycles.
In addition, Clariant contributed an additive solution that it says enables targeted additivation to protect PCR quality and to protect against polymer chain breakdown with each recycling step. The companies say that this delivers a suitable, high-quality material that meets the requirements of consumer packaging for the personal care segment.
To achieve differentiation of the packaging without adding colour to the bottle itself, the companies explain that they chose a full-body shrink sleeve to offer individual brand design.
Siegwerk, in collaboration with Beiersdorf and a sleeve manufacturer, provided ink systems that reportedly allow full-body colour printing of the whole sleeve. The companies add that the chosen ink composition is designed to allow deinking of the sleeve within a recycling process, with the bottle/sleeve combination apparently intended for removal at a materials recovery facility.
The companies claim that first sorting trials in existing recycling infrastructure prove the sortability of the full-body sleeved HDPE bottle, reportedly achieving high recovery of the bottle's material. According to the companies, the project team has conducted trials with a full-body sleeved, transparent PET bottle and achieved similar results.
The companies add that further advancements in sorting technology – such as digital watermarking and artificial intelligence – are needed to achieve a circular economy for colourless bottles, allowing them to retain function and value. However, according to the collaborators, the materials used in the bottle concept are all technically fully recyclable with the potential to be used for the same high-value application.
Peter Voortmans, global commercial director of consumer product at Borealis, concludes: "Transforming to a circular economy is a team effort. Only together with like-minded partners can we shape an 'ever mindful' tomorrow. It starts with packaging design in combination with the right sorting and recycling infrastructure, and through collaboration we reinvent essentials for sustainable living."
Beiersdorf has previously launched packaging made from certified renewable tall oil for its NIVEA brand. Meanwhile, Siegwerk has recently unveiled UV-based deinking primers for labels and sleeves, aimed at ink systems that have previously been considered non-deinkable.