We speak to polycirQ to learn more about their technology which boosts the yield of high-quality recyclate by removing printing inks from LDPE and PP films. The company is a finalist in the pre-commercialized Driving the Circular Economy category of our Sustainability Awards 2022.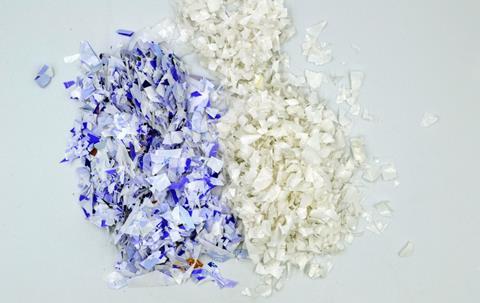 You're a finalist in the Sustainability Awards 2022. Congratulations! To start off, could you summarise your entry, the polycirQ deinking process yielding high-quality recyclate from printed plastic films, in less than 50 words?
polycirQ, a Siegwerk subsidiary, has developed deinking surfactants that aid mechanical recycling by applying hot-washing to remove printing inks from LDPE and PP films to enable closed-loop recycling. We offer a recycling service for printed films that turns scrap into recyclate suitable for high-quality packaging applications.
Why do you think the judges were impressed with your entry? Tell us about what is innovative about your project and/or about its impact on packaging sustainability.
Firstly, polycirQ's deinking surfactants are especially tailored towards two unsolved problems in deinking: (1) incomplete deinking especially for tough, cross-linked inks and (2) minimizing discoloration and recoloring during the hot-wash. As Siegwerk subsidiary, polycirQ draws upon the ink expertise of its parent company to tackle these issues at the root. The process aims to yield virgin-like recyclate fit to go back into high-quality packaging - independent of ink supplier.
Secondly, beyond improving the quality of LDPE and PP recyclates, we are working on a water treatment solution that recycles the hot process water indefinitely. In contrast to common practice in plastics recycling, the used wash water is not discharged into the public sewer system. polycirQ uses several water treatment technologies to utilize the hot wash water in a closed circuit minimizing freshwater consumption. Our solution is already validated in our technical center and industrial-size feasibility tests are on their way.
Lastly, polycirQ adds innovative technology pieces to an already existing infrastructure. The polycirQ deinking process does not require the construction of completely new infrastructure, we deliberately do not reinvent the wheel. Our process builds upon utilization of existing infrastructure and known processes. This saves resources during construction and enables rapid expansion to larger quantities of recyclate that can actually make a difference in the near term.
Overall, LDPE and PP are the most common plastic types, but printed films are traditionally difficult to recycle. By preventing downcycling, the polycirQ deinking process reduces the need for virgin LDPE and PP by supplying high-quality recyclate fit for utilization in packaging applications. A conducted life-cycle analysis shows that the polycirQ process saves ~45% CO2 emissions compared to using virgin resin.
When and how do you intend to launch/commercialize this innovation?
In a first commercialization step, polycirQ will focus on offering 'deinking as a service' to converters in the packaging industry. This allows for industrializing the innovative deinking process with controlled and rather uncontaminated inputs. By turning a converter's own printed production scrap into high-quality recyclate, polycirQ's customers will know the contents of their recyclate and polycirQ will be able to provide stable qualities – which are rare in today's recycling market. The polycirQ service allows for recycling a converter's production scrap (~5-10% of production output) in a closed loop reducing the need for virgin resin in packaging production. Once the process is validated at industrial scale, we will expand our offering towards post-consumer waste streams.
polycirQ intends to start operation on the first industrial-scale deinking plant in 2023. We are looking for operations partners from the recycling industry. So, if you are an innovator in the recycling industry experienced in film recycling and ideally (cold-)washing – please reach out to us via info@polycirq.com!
You're shortlisted for the Driving the Circular Economy (Pre-Commercialized) category. What do you see as the key demands, challenges and opportunities when it comes to driving the circular economy?
The biggest challenge we face is that you cannot turn around a decades-old, established system (i.e., the linear plastics economy) in the blink of an eye. However, lamenting this fact should not be an excuse for hesitating to initiate change. We at polycirQ believe that a bias towards action is desperately needed throughout the supply chain to embrace upcoming opportunities.
We need frontrunners to set off a butterfly effect by implementing solutions that are just on the edge of market readiness. Obviously, being such a frontrunner requires bravery and risk appetite. Especially in the current market environment, it is impossible to predict whether the butterfly effect will bring those who dare to set it off success or failure.
We need innovators among brand owners that rethink packaging and actually implement recyclable solutions. We need innovators in collecting and sorting that go the extra mile to actually extract all recyclables. We need innovators in recycling that actually adopt advanced mechanical recycling methods to show that high qualities are within reach. We need innovators in packaging production that actually bring recyclate back into packaging even though the product may look less pretty. And finally, we need to educate ourselves, market companions and end customers on packaging sustainability and refrain from labelling recyclates e.g., from post-industrial waste as bad and from post-consumer waste as good. There is no magic formula on the way to circular economy. Challenging each other is value creating, finger pointing is not helping the system change as it poisons the bias for action.
All of this does not necessarily need to be a coordinated effort in flagship projects. We need a few actors from across the supply chain that quickly and bravely embrace innovations. Others will follow. Our linear economy is running out of time to make the change. We cannot ponder, rely on legislative bodies, and act risk-averse anymore – even though economic times are tough. At polycirQ we believe that those who go ahead with innovative solution in turbulent times, will succeed even more in calmer waters.
Winners will be announced at a special awards and networking dinner taking place the evening of the 14th of November during our 'Innovation Horizon' event. You can book tickets for the dinner and/or the conference, which reveals the cutting-edge sustainable packaging innovation that will be needed over the coming 5+ years, here: https://lnkd.in/eyUHXFm