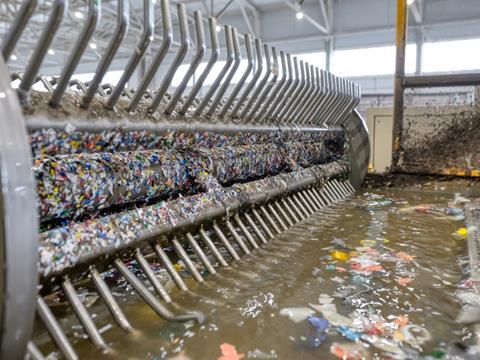 Siegwerk says that its UV-based deinking primers for labels and sleeves offer a validated solution for the safe and economic deinking of energy-cured ink systems that have previously been considered non-deinkable.
Along with its existing water-based deinking primer, which is approved by The Association of Plastic Recyclers (APR), Siegwerk is now offering a UV-curing deinking primer reportedly suitable for pressure-sensitive and wrap-around labels, as well as shrink sleeves made of polyolefin- and polyester-based materials. The company says that this development allows an inline printing of deinkable materials in a 100% UV flexo press setup.
Siegwerk adds that the primers can also help to improve deinking, especially for rigid plastic packaging, and add value to the industrial mechanical recycling process.
To integrate deinking into the recycling process, recyclers need to implement a hot washing step first. Siegwerk notes that the deinking process should not negatively impact the recycling process, for example, by contaminating the wash water.
According to Siegwerk, more and more recyclers are implementing hot washing processes to improve the quality of recyclates derived from rigid plastic packaging like trays, cups and containers, and a key aim is to use a lower washing temperature to help save on both energy and costs. Siegwerk says that its deinking primers can be used at any hot washing condition currently applied in the recycling industry.
In addition, Siegwerk claims that its deinking primers are compliant with different film materials like PET, PE, or PP and apparently do not require the use of dedicated ink series, which reduces the complexity of the process.
With the UV-curing deinking primer, Siegwerk also says that it offers a solution for converters who are using a pure UV flexo press and are not able to process a water-based primer. The UV-curing deinking primer reportedly shows the best compatibility with UV-curing inks, facilitating quantitative deinking according to the washing protocols of EPBP and ARP.
The company adds that, applied under bleeding-resistant UV-cured ink layers, the primer layer dissolves in the hot washing process and enables the generation of high-quality colourless recyclates. The non-bleeding ink formulations also ensure a clean and reusable washing solution, according to Siegwerk.
Ralf Leineweber, head of global technology development at Siegwerk, comments: "We consider deinking primers as a key lever for smart deinking of crosslinked ink systems, especially at low washing temperatures for sleeves, labels and other printed decoration for rigid plastic packaging.
"The greatest opportunities to improve plastic recycling in line with a circular economy obviously lay in areas where hot washing already became a standard step within the recycling process, such as in the PET bottle 2 bottle recycling.
"Achieving 100% packaging circularity requires a sufficient and consistent quality of recyclates."
Guido Lander, vice president of narrow web EMEA at Siegwerk, adds: "That's why we are committed to support customers with innovative solutions facilitating deinking and thus contribute to establishing deinking as an industry-standard to further improving packaging recyclability and circularity.
"Deinking is not a product for us, it is a "Full Service Offering" where everything needs tie together. That's why we follow a holistic approach and also offer the execution of deinking tests according to the most common washing protocols in our specialized laboratories."
Last month, Siegwerk announced a new UV offset ink for non-food paper and board applications, which it says consists of more than 40% renewable and vegetable-based components.