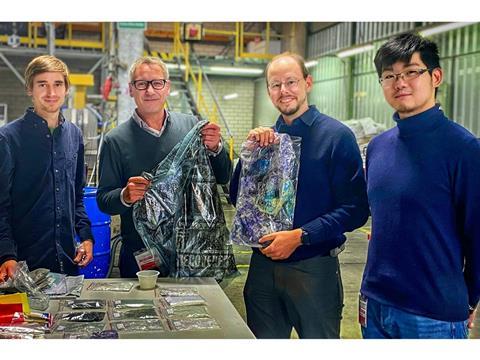 A partnership between Siegwerk, German startup Wildplastic, and the Hamburg University of Technology (TU Hamburg) has announced its successful trial to deink plastic packaging waste before it enters the recycling extrusion process.
Only around 9% of the plastic produced worldwide has been recycled, according to Siegwerk, with 12% ending up in landfills. The remaining 79% is thought to leak into the environment and break down into microplastics, which can be hazardous to human health.
As such, the company asserts that recycling processes must improve to be receptive to more packaging. Deinking it prior to regranulation is hoped to prevent the inks used in printing from contaminating the recyclate and keep the plastic in the recycling stream for longer.
Wildplastic collects "wild" plastic from beaches, landfills, and illegal dumpsites; this is then transported to a recycling partner to wash, melt, and process the plastic into granules for a production partner to use as a substitute for virgin plastics. Its current focus is to create a demand for LDPE – used in bubble wrap and certain types of food packaging, for example – and facilitate higher collection rates.
To support this effort, Siegwerk is providing its knowledge and expertise in the deinking process with the goal of producing uncontaminated recyclates. If left untouched, inks will degrade during the recycling process, the company explains – not only contaminating the recyclate but producing unpleasant colours or odours within it. It is argued that, even if the inks are not completely removed, reducing their presence will greatly improve the chances of the plastic being recycled.
The collaboration aims to demonstrate the importance of cross-industry collaboration in the journey towards sustainability.
"We started to conduct research on deinking of post-consumer plastic waste with Wildplastic about one year ago," said Jinyang Guo from the Institute of Circular Resource Engineering and Management (CREM) from TU Hamburg during a kick-off meeting between the partners in November 2022. "As a technical university, it is important to carry out meaningful research relevant to the real-world problem.
"From our project, we have learned that a successful circular economy only works by motivating all the stakeholders involved. Siegwerk as the producer of printing ink, can play an important role in this context since it brings the producer's perspective to solve the problem in the beginning."
"It is a pleasure to work with our partners from Wildplastic and from the University of Hamburg on this topic, continued Ingo Fehr, senior project manager at Siegwerk. "We have a strong can-do attitude in common.
"The scientific perspective and the conscientiousness contributed by Jinyang helps us to maintain a fact-based and objective view, not only in the design of experiments but also in the interpretation of results. Wildplastic has the ambition to benefit from deinking in their recycling activities in just a few months and brings in an industrial perspective."
"We have started this collaboration with Jinyang and the University about one year ago following our deep interest to find a solution for specific washing needs for highly challenging post-consumer plastic film materials in a small scale batch operation," said Dieter Gottschalk, co-founder of Wildplastic. "From day one we have worked together in a very open and solution-orientated way and with shared passion. It´s all about getting the right people together, therefore we are extremely happy to share our results and to extend our collaboration with the team at Siegwerk."
Siegwerk subsidiary polycirQ was a finalist and winner under the 'Driving the Circular Economy' category at the Sustainability Awards 2022 for its deinking technology, designed to boost the yield of high-quality recyclate from LDPE and PP films.
The Cadel Deinking brand was also acquired by KEYCYCLE last year; the companies aimed to integrate their collaborative work in deinking printed plastic into one product portfolio and apply the technology to post-consumer recycling streams.